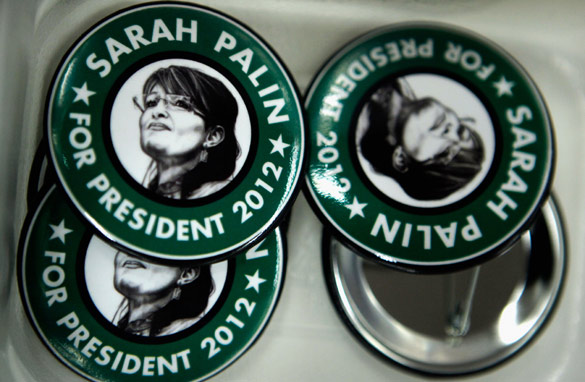 Political buttons featuring Sarah Palin were sold at the Conservative Political Action Conference (CPAC) in DC last month. (PHOTO CREDIT: GETTY IMAGES)
FROM CNN's Jack Cafferty:
You can't see India from Sarah Palin's house, so the former governor of Alaska who quit halfway through her first term is going to go there and get a firsthand look. Palin will be on her way to New Delhi next week.
She's been invited to deliver the keynote address at a two-day leadership event called the India Today Conclave. It's an annual conference that attracts business and political leaders from around the world. Attendees this year will include Indian Prime Minister Manmohan Singh and Nobel Peace Prize winner Mohamed ElBaradei, one of the possible replacements for Hosni Mubarak in Egypt. Last year's keynote speaker was former President Bill Clinton.
The title of Palin's speech is My Vision of America, and Politico.com reports it comes as no surprise the group invited Palin. India is fascinated with American politics because so many Indians have immigrated to the United States and found success here. Many still have relatives in India. The Indian press regularly follows the careers of Indian-American politicians like Louisiana Gov. Bobby Jindal and newly elected Gov. Nikki Haley of South Carolina. Both are Republicans. Palin's support for Haley has been credited with giving her campaign a boost. But the media in India also follow closely what's going on in Washington as well as outside the Beltway. Maybe Palin can learn from them while she's there.
Here's my question to you: What can Sarah Palin teach India about American politics?
Interested to know which ones made it on air?
Lou:
She could teach them that we have a vibrant democracy that was founded on freedom of and from religion, freedom of speech even for the media, and the basic principal of equal individual rights. But I don't think she has learned that herself, so it's no telling what she'll spew.
Bud:
Maybe you're on to something. Charles de Gaulle once said that of all the U.S modern Presidents, L.B.J. best illustrated what America really is: Aggressive, foul mouthed, tough, the whole nine yards. Kennedy and the East Coast types are merely cover ups for the real deal. Maybe Sarah could be elected after all. NAH!
Jim:
You are correct, Jack. Sarah Palin is no Bill Clinton. You know, however, that our government is broken and I believe that Sarah knows that as well. She may be simplistic in the Ronald Reagan way, but she can help reverse the current trend.
Carolyn:
I don't know what she can teach them about her vision for America, but just imagine the poor interpreter trying to translate "Palinese" to Indian, and the polite and smiling audience wondering why she's ordering a moose on rye in the new deli.
Mike in St. Paul:
That in American politics anyone could be president. Anyone. Anyone at all.
Ben in Maryland:
She can teach them that facts should never get in the way. If you don't like the facts, change them or make them up. She can also teach them that you do not have to know anything to succeed in politics, just tell a good story and find someone that can be blamed for whatever distortions you want to make up.
Mark in Oklahoma City, Oklahoma:
Jack, would you please try to keep up with the times and get off this Sarah Palin gig? Charlie Sheen is where it's happenin' now, man.