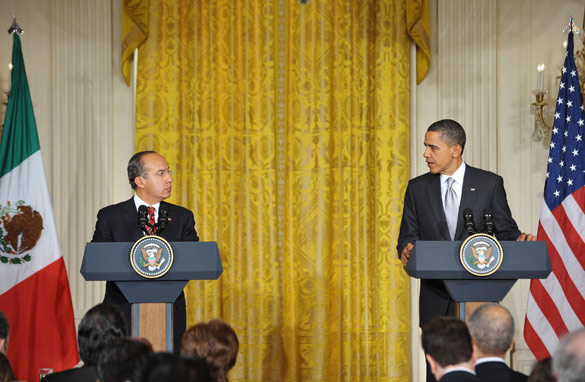 (PHOTO CREDIT: MANDEL NGAN/AFP/Getty Images)
FROM CNN's Jack Cafferty:
Mexican President Felipe Calderon met with President Obama in Washington today.
The two leaders discussed everything from a trucking dispute that has hurt trade to the increasing violence near and around the U.S./Mexico border.
Relations between the two countries are worse than they have been in a long time. Drug gangs rule the streets in many Mexican border towns, and violence is soaring. Since 2006, the year Calderon took office, 34,000 Mexicans have died in drug-related killings.
Three weeks ago, a U.S. Immigration and Customs Enforcement agent was killed and another agent was injured when their SUV was ambushed on a Mexican highway. It was the first time a U.S. agent had been killed in the line of duty in Mexico in 25 years. Investigators believe that the killers were members of the Zetas, one of Mexico's most dangerous drug cartels.
And the violence continuously spills over the border into the United States.
Authorities in Chandler, Arizona, now say a man who was stabbed and beheaded last fall outside Phoenix was killed for stealing drugs from a Mexican drug gang.
The United States is the market for the drugs... and our government refuses to seal our border with Mexico.
The twin issues of immigration and border security are all but ignored by our federal government which is charged by our constitution with providing for our national security. It's an absolute disgrace.
Here's my question to you: What's the answer to worsening relations between the U.S. and Mexico?
Interested to know which ones made it on air?
John:
Jack, the answer is to close the border once and for all and then enforce it. Look at the success Israel has had with its security fence. Once we finally do this, we can stop the shipment of arms to Mexico, the shipment of drugs to the U.S. and the flow of illegals into this country. What is the real reason that the U.S. government refuses to do this? It can be done, but clearly they don't want to.
Richard in Malvern, Pennsylvania:
It's time to bring home our troops from the Middle East and post them on our southern border with Mexico. We'll save tons of money and finally protect our people from incursions by illegals and the cartels.
Steve:
There are only problems with a few of their exports: people and drugs. Most everything else is reasonably good.
Greg in Mechanicsburg, Pennsylvania:
There is a war going on at the border with Mexico and we are the ones supplying them with the money and guns. Our war on drugs is to blame. If the leaders of our government could do one intelligent thing, it would be to end prohibition of marijuana. Prohibition of alcohol tore our nation apart decades ago just as prohibition of marijuana is today.
Simon in Orlando, Florida:
An electrified border fence.
Joe in Binghamton, New York:
As long as US employers are free to act without genuine fear of prosecution for hiring illegal workers, and U.S. big business promotes cheaper wages, less rights, and non-unions, then we have no answer for worsening relations with Mexico. All U.S. actions are based solely to satisfy big business interests and have no solution for the poor immigrants or the poor Americans.
Tom in Forest Hills, Pennsylvania:
This is easy, Jack. Legalize drugs!