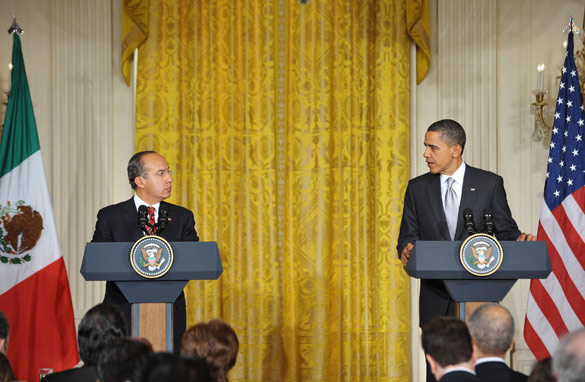 (PHOTO CREDIT: MANDEL NGAN/AFP/Getty Images)
FROM CNN's Jack Cafferty:
Mexican President Felipe Calderon met with President Obama in Washington today.
The two leaders discussed everything from a trucking dispute that has hurt trade to the increasing violence near and around the U.S./Mexico border.
Relations between the two countries are worse than they have been in a long time. Drug gangs rule the streets in many Mexican border towns, and violence is soaring. Since 2006, the year Calderon took office, 34,000 Mexicans have died in drug-related killings.
Three weeks ago, a U.S. Immigration and Customs Enforcement agent was killed and another agent was injured when their SUV was ambushed on a Mexican highway. It was the first time a U.S. agent had been killed in the line of duty in Mexico in 25 years. Investigators believe that the killers were members of the Zetas, one of Mexico's most dangerous drug cartels.
And the violence continuously spills over the border into the United States.
Authorities in Chandler, Arizona, now say a man who was stabbed and beheaded last fall outside Phoenix was killed for stealing drugs from a Mexican drug gang.
The United States is the market for the drugs... and our government refuses to seal our border with Mexico.
The twin issues of immigration and border security are all but ignored by our federal government which is charged by our constitution with providing for our national security. It's an absolute disgrace.
Here's my question to you: What's the answer to worsening relations between the U.S. and Mexico?
Interested to know which ones made it on air?