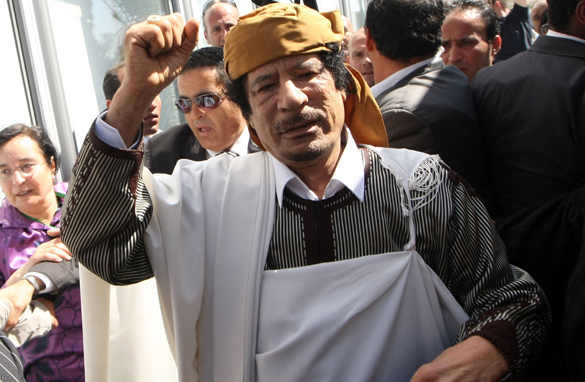 Gadhafi is pictured earlier today arriving for a ceremony marking 34 years of "people power" in Tripoli. At the event, he vowed to fight an uprising against his 41 year rule. (PHOTO CREDIT: MAHMUD TURKIA/AFP/Getty Images)
FROM CNN's Jack Cafferty:
The United States said Wednesday it is weighing a possible military role to help the Libyan revolt against Moammar Gadhafi, after the Obama administration has repeatedly asked Gadhafi to step down from power and demanded accountability for the violence and bloodshed he has visited upon his own people.
But the White House has also said all options in dealing with the crisis in Libya are on the table. One of those options may be exile.
Visiting Geneva, Switzerland, on Monday, Secretary of State Hillary Clinton said the United States might be willing to accept a deal in which the Libyan leader would voluntarily agree to exile in a third-party country.
Tuesday in a television interview, U.N. Ambassador Susan Rice urged Gadhafi to end the violence and his reign of terror and consider exile.
Rice said she's worried the situation in Libya could quickly turn into a humanitarian catastrophe.
President Obama has not yet spoken publicly about Libya this week, but a spokesman said Monday that the president is holding firm on his stance that Gadhafi needs to step down immediately and that exile was one way to make that happen.
Meanwhile, Gadhafi remains in Libya. The violence continues, unrest grows, more refugees head for the borders and the stakes get higher for everyone.
Here's my question to you: Should the United States offer exile to Gadhafi?
Interested to know which ones made it on air?
Wilmer:
Gadhafi should not be given exile status in any Western country. To do so sends the message to the Mid East countries that the West takes the side of the oppressors. Gadhafi should face his own people who will justly deal with him and give him his due.
Bob:
They should arrest and try the punk for the Lockerbie bombings. He should also be tried for committing crimes against Libyans and his role in arming the IRA.
D.K. in San Jose, California:
Jack, why are we once again acting like the holier-than-thou Police of the World? Shouldn't we let Libya, and the rest of the world, solve their own problems? I realize oil and gas prices are at stake here, but why would we "be willing to accept a deal" for Gadhafi? Why is he our business?
Leslie:
No let his people that he claims love him have him.
Bizz in Quarryville, Pennsylvania:
The answer to your question is no, absolutely no. We all know what happened when the Shah of Iran ended up in the United States for medical treatment and the reaction from Iran. When the protesters get their hands on Gadhafi, the only place he will be is in the ground.
Lou:
Yeah. Sure. He could ask Charlie Sheen if he has an extra bedroom. Our thinking is wide in scope and takes in all the crazies and makes them think they are smart. Jack, I am glad you thought about him coming to our great land. He wouldn't even have to come through Ellis Island. He is crazy enough to just slide right in. Sheen would have a super roommate.
Joe in Fort Walton Beach, Florida:
For his 30 billion dollars, I'll keep him in my own home.