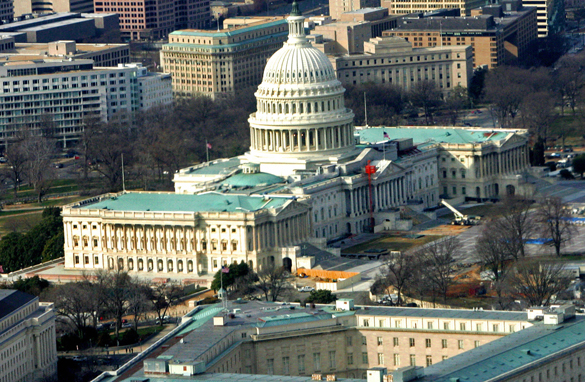 (PHOTO CREDIT: PAUL J.RICHARDS/AFP/Getty Images)
FROM CNN's Jack Cafferty:
There's a pretty good chance now that the federal government will not shut down at midnight on Friday.
The House approved a new spending measure this afternoon that could keep the government running for two weeks past Friday's deadline. Democrats and Republicans agreed to $4 billion in spending cuts - mostly to earmarks and other programs, many of which President Obama proposed in his own budget. The measure now moves on to the Senate.
You can bet those cuts are the easy ones - not any of the heavy-handed cuts House Republicans passed in a bill a few weeks ago that included ending funding to Planned Parenthood and making cuts to education programs and the EPA. And there still isn't total agreement on the $4 billion measure.
The President and some Democrats were hoping for a four to five week extension cutting as much as $8 billion.
According to a recent poll, 58 percent of Americans say they would rather have a partial government shutdown until Democrats and Republicans can agree on what spending to cut than have Congress avoid a shutdown altogether by keeping spending at the same levels as last year.
And since both parties can't agree on how much should be cut from the budget for the rest of the year and which programs should face the ax, a shutdown could be a reality very soon.
Here's my question to you: Would you favor a government shutdown until significant spending cuts are agreed on?
Interested to know which ones made it on air?
Kevin:
Of course not. Having suffered through the last time the GOP played this game, I'm well aware of the real world consequences - contracts canceled, people unemployed, seniors and veterans not receiving benefits. And this time we've got 2 wars going plus a shaky economic recovery trying to survive.
Richard in Texas:
Not only would I favor a government shutdown but I would be willing to fly from Texas up to Washington DC to protest until significant cuts are agreed upon. Jack, kicking the can down the road has gone on long enough. We are at the end of the road and all those cans are blocking our way out of the dead-end called government debt.
Paul in Hawaii:
Jack, why do we have "non-essential workers" in our government? How many "non-essential workers" does CNN employ? My guess would be zero. If our government shuts down, they say all the "non-essential workers" will be laid off. Think of the billions we will save by firing all of these "non-essential workers."
Frank in Indiana:
No, this is a tactic of juveniles not elected representatives. We need to increase revenue, not cut spending. That means tax the super rich at 90% as we did under Eisenhower.
Kathy:
Jack, with our financial house in ruins, drastic and painful solutions are unavoidable. Regrettably, a government shutdown may be what's needed to shake the Democrats from their out-of-control spending. This would be similar to using a defibrillator on a person suffering a heart attack.
S in Florida:
If you mean pay the G.O.P. ransom, I'll have to say no. How about we start collecting taxes again?