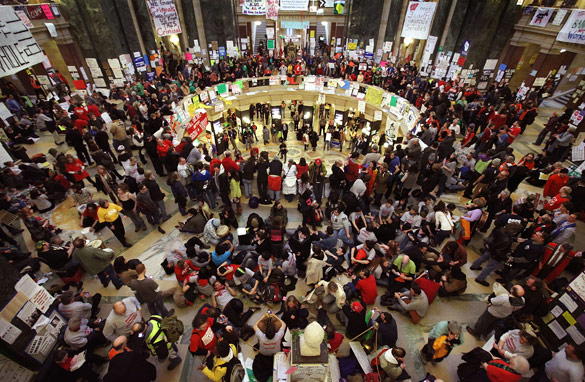 Demonstrators protested in the capitol rotunda last night in Madison, Wisconsin. Demonstrators have occupied the building with a round-the-clock protest for the past 13 days protesting Governor Scott Walker's attempt to push through a bill that would restrict collective bargaining for most government workers in the state. (PHOTO CREDIT: GETTY IMAGES)
FROM CNN's Jack Cafferty:
It's been two weeks since public-union supporters in Wisconsin began protesting in and around the state capitol in Madison.
They're upset over Republican Gov. Scott Walker's proposal to close the state's $3.6 billion budget gap. It calls for putting limits on public workers' collective bargaining rights and requiring those workers to have more money taken out of their paychecks for health care and pension funds.
But the budget bill is at a standstill. It passed the State Assembly, but rather than vote on the bill in the Senate, which is their job, the Democratic state senators ran away to Illinois and have not returned. But Walker is holding his ground.
Pro-union protesters have taken to state capitol buildings in Indiana and Ohio as well over the past week. This is also in response to Republican-sponsored bills calling for cuts to public union employees' benefits and limiting their collective bargaining rights.
In Tennessee, teachers are fighting a bill that would take away their collective bargaining rights. They've already said they'd make some concessions on areas such as tenure, which prevents teachers from being fired but is often criticized as keeping bad teachers in the classroom.
In this economy, public labor unions have lost a good amount of popular support. That's because private-sector union workers no longer get the job protection, health benefits and pension plans these state employees still enjoy.
Here's my question to you: Should the power of public labor unions be reduced?
Interested to know which ones made it on air?
John in Marlton, New Jersey:
Yes, public labor unions have gone beyond 'collective bargaining' to holding taxpayers hostage. The most recent 'insurgency' in state capitals (i.e. Wisconsin) is no less than financial terrorism that circumvents our 'voting/electoral' process. Now is the time to address not only the value of public unions but the actual productivity of civil servants.
Ken in Seattle:
Separate the paper pushers who make our government stupid and discipline their demands. One should not get to keep a job when lazy and late and sloth-like. Leave the teachers be.
Michael in Albuquerque:
A unionized public employee, a member of the Tea Party, and a CEO are sitting at a table. In the middle of the table there is a plate with a dozen cookies on it. The CEO reaches across and takes 11 cookies looks at the Tea Partier and says,"look out for that union guy, he wants a piece of your cookie."
Eve in Texas:
Only when the super rich stop running our nation. Many people dislike unions and their past and present abuses, but these abuses do not compare to the blatant buy-out of our congress by the super rich. I fully support unions because they have been responsible for maintaining what little middle class we have left.
Fran:
The Unions need to be strengthened. The workers of America have been vilified for everything bad that has happened. It is the rich, corporate bosses, Wall Street, the banks, and the rich Republicans who cater to the wealthy that have caused this mess. Remember Bush/Cheney took over a great economy and turned it into a near depression.
Paul in New Port Richey, Florida:
There should be no public unions. The very idea that the union negotiates with the people they elect is corrupt beyond the pale.