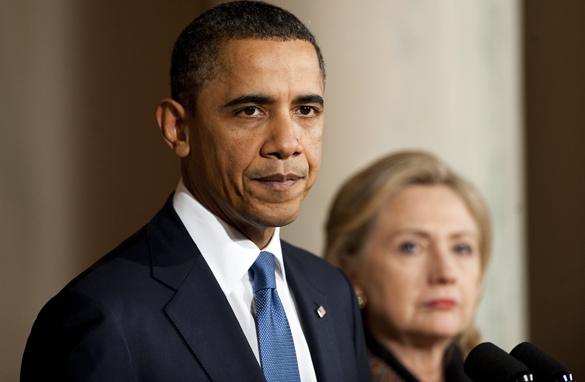 President Obama makes a statement on Libya with Secretary of State Clinton at the White House. (PHOTO CREDIT: JIM WATSON/AFP/GETTY IMAGES)
FROM CNN's Jack Cafferty:
President Obama finally spoke out Wednesday on the crisis in Libya. He condemned the violence against anti-government protesters and announced that Secretary of State Hillary Clinton will be meeting with top diplomats on Monday to discuss how to respond to violence in the region.
However, the president stopped short of calling for the resignation of Libyan leader Moammar Gadhafi or announcing any sanctions the United States would place on that nation.
The president is expected to speak with French President Nicolas Sarkozy and British Prime Minister David Cameron by phone on Thursday to discuss the unfolding situation in Libya.
All of this happened after the president didn't say anything for the first few days of the crisis. He was reportedly concerned about the safety of Americans inside Libya. It turns out not saying anything is not necessarily a bad thing, according to a new Gallup Poll.
While 66% of Americans think the United States should play either the leading or a major role in resolving international problems, 32% say the United States should be a minor player or not get involved at all. That's up from 23% just two years ago, and at its highest level since 2001.
But as tensions mount and the stakes get higher, which they inevitably do when oil is involved, it's unlikely the United States will remain on the sidelines indefinitely.
Here's my question to you: Is it time for the U.S. to scale back its role in world affairs?
Interested to know which ones made it on air?
James in Greenville, North Carolina:
Yes it is, Jack. Time for us to mind our own business for a while. And while the Federal government is minding its own business then maybe they will stay out of each state's business. I do not think the Federal government is doing a very good job of managing our own national affairs so maybe we should not be trying to manage everyone else's.
A.E.:
Times have changed. The cold war is over. There is no need to play policeman to the world. This is the New World Order and the U.S. needs to adjust to the realities of the present day.
Lawrence:
Jack, until the Western World learns how to tap into other sources of energy rather than being dependent on oil, we just can't scale back. We are too deep into oil to think straight. It's time we tap into more green resources.
Paul in Parry Sound, Ontario:
It's time to scale back the military role, but not the humanitarian.
Mark in Voorhees, New Jersey:
I would call Gates tonight and tell him I want to be out of Iraq and Afghanistan by Monday. A billion dollars a day? And they want to lay off teachers? Troops in Germany? For what? Whoever decided we are the World Police, it's time to change that decision now.
Paul:
We need to maintain a high profile in world affairs. We need to trade for the things we need now and in the future, oil, rare earth metals, things that our competitors are actively pursuing. Our democracy was born of revolution. We take a lot of pride in our history of Valley Forge, Boston Massacre, Shot heard 'round the world, etc. We did it with help from Europeans. We need to support the attempts at forming democracies in the Middle East and wherever they occur. It will pay off in the long run.
Richard:
This is a no-brainer! Other countries hate us if we give them money or if we don't. Reduce foreign giveaways by at least 25% and reduce the deficit by that amount each year. We are broke. Keep the money in the USA.