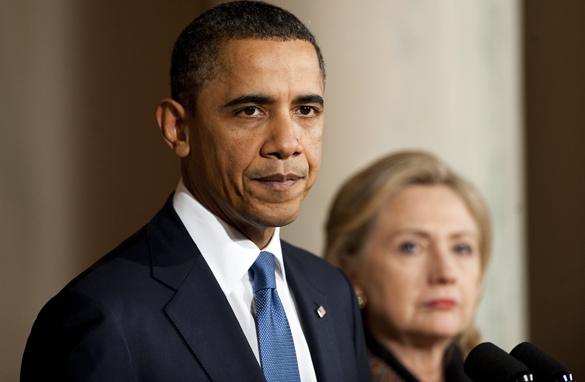 President Obama makes a statement on Libya with Secretary of State Clinton at the White House. (PHOTO CREDIT: JIM WATSON/AFP/GETTY IMAGES)
FROM CNN's Jack Cafferty:
President Obama finally spoke out Wednesday on the crisis in Libya. He condemned the violence against anti-government protesters and announced that Secretary of State Hillary Clinton will be meeting with top diplomats on Monday to discuss how to respond to violence in the region.
However, the president stopped short of calling for the resignation of Libyan leader Moammar Gadhafi or announcing any sanctions the United States would place on that nation.
The president is expected to speak with French President Nicolas Sarkozy and British Prime Minister David Cameron by phone on Thursday to discuss the unfolding situation in Libya.
All of this happened after the president didn't say anything for the first few days of the crisis. He was reportedly concerned about the safety of Americans inside Libya. It turns out not saying anything is not necessarily a bad thing, according to a new Gallup Poll.
While 66% of Americans think the United States should play either the leading or a major role in resolving international problems, 32% say the United States should be a minor player or not get involved at all. That's up from 23% just two years ago, and at its highest level since 2001.
But as tensions mount and the stakes get higher, which they inevitably do when oil is involved, it's unlikely the United States will remain on the sidelines indefinitely.
Here's my question to you: Is it time for the U.S. to scale back its role in world affairs?
Interested to know which ones made it on air?