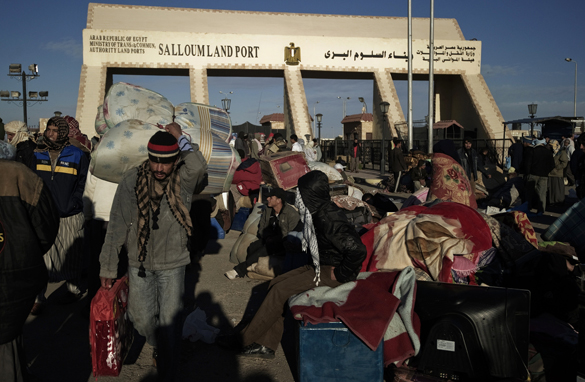 Egyptians return home from the Sallum border crossing with Libya as they flee political turmoil in the midst of an insurrection against Moammar Gadhafi's regime. (PHOTO CREDIT: AFP/GETTY IMAGES)
FROM CNN's Jack Cafferty:
The political uprisings across the Middle East and northern Africa have paved the way for change for millions of people who have never known life outside a dictatorship. For the rest of us watching at home, those uprisings have created a lot of questions about the future of a region rich with oil and not exactly starved of anti-Americanism.
Until Egyptian President Hosni Mubarak resigned earlier this month, one party had held all that nation's political power for decades. Other parties were banned or restricted in power. The military is running things now, but who will eventually be in charge?
Moammar Gadhafi has ruled over Libya with a culture of fear since 1969. If he goes – and it looks like he will – what's next? And what if the ruling Sunni family in Bahrain flees and allows the Shiite majority to take control of that tiny nation? Some say it's only a matter of time before they embrace Iranian politics. And of course, what does it all mean for nations like the United States?
In a piece for the Daily Beast, Leslie Gelb writes, "To be blunt, I don't know anyone who has the foggiest idea where these revolutions from Algeria to the borders of Saudi Arabia are going or whether future leaders there will be true democrats or new dictators."
Gelb says he's hoping for – but not betting on – a brighter more democratic future for these countries.
After all, we've got a lot at stake over there. And it's not just about oil. It's anti-terrorist operations, it's U.S. military presence and how our foreign policy fits in the changing policies of Arab nations.
Interested to know which ones made it on air?
Steve in Los Angeles:
Anti-American sentiment in the Middle East is as strong as it's ever been. Plain and simple, a majority of the people there don't like us. A leader voted in by the people, for the people in the Middle East is not something for us to look forward to.
Bradley in Oregon:
Democracy is alien to the Arab culture. They tend to end up with authoritarian regimes, generally under some kind of a dictator, or they end up with an Islamic theocracy.
Dave in Vancouver:
Millions of disfranchised Middle Easterners, googling, tweeting and facebooking will be underestimated at the peril of outside political influences. If these young twenty-first-century revolutionaries have the stuff to topple dictators of decades, in days and weeks, they have the stuff to fend off the likes of Bin Laden and Ahmadinejad as they transition to democracy.
Karen in Naples, Florida:
Unfortunately, Fundamentalist Islam will grow. It sure is messy over there.
David in Plant City, Florida:
Libya is going though a crucible of fire right now, which could easily give the extremist factions a great deal more traction. If we want these countries to fall on our side we are going to have to help them, otherwise we might lose them like we lost Iran (though we might get a second chance at Iran). Some might say we cannot afford to help those abroad with problems at home, but can we afford the cost of these countries becoming like Iran? I think we can afford that even less.
Ginger in Galax, Virginia:
There is great diversity in the Middle East. What happens in Egypt will be totally different than what happens in other countries. Some are ripe for extreme groups to influence and some will move steadily towards democracy. I would bet on Egypt to be a model. Whatever happens, there will be bloodshed.