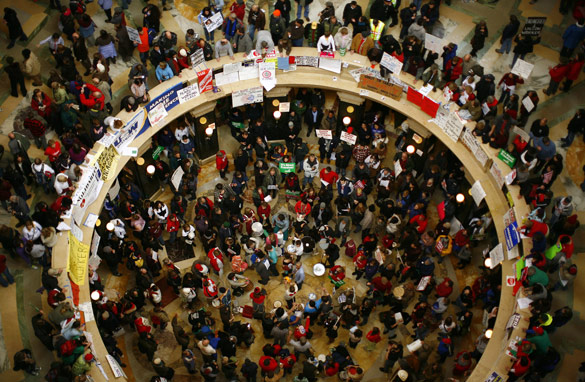 Demonstrators protest inside the state capitol today in Madison, Wisconsin. (PHOTO CREDIT: GETTY IMAGES)
FROM CNN's Jack Cafferty:
The showdown in Wisconsin over Governor Scott Walker's proposal to restrict the collective bargaining rights of public sector unions as a way of dealing with the state's budget deficit has put President Obama in a tough spot.
He doesn't want it to appear that he's turned his back on public sector unions. After all, their support helped him win the presidency in 2008.
But at the same time, his federal government is staring at deficits the likes of which we've never seen before, and there is no sign he or the Congress are about to do anything meaningful to address them.
Last week, the president told a Milwaukee television station: "Everybody's got to make some adjustments to new fiscal realities" but then later added the proposed cuts seem "more like an assault on unions."
That second part got under some Republicans' collars.
Republican Senator Lindsey Graham called the comment "inappropriate" and said the President should focus on what's happening in Washington, not Wisconsin.
And Wisconsin's unions likely won't be the last to be targeted for cuts. A new government report finds that combined federal, state and local government debt now exceeds the size of our entire economy. Ohio and Florida also have new Republican governors who are trying to make deep cuts to balance their budgets, and many other states are facing tough decisions, as well.
Here's my question to you: Should President Obama stay out of Wisconsin's budget battles?
Interested to know which ones made it on air?
Sylvia in San Diego:
Yes, yes and yes. He should be focused on the national debt and creating jobs. From what I've heard thus far, the governor of Wisconsin is quite capable and doesn't need outside interference.
John:
Yes, he should. He has his own budget issues to contend with and should allow a state, any state, to work at cleaning up its own house as it sees fit under the law. It gives the impression he can't handle his affairs so he's trying to divert attention.
Paul:
President Obama should watch what's happening closely, feel free to express his opinion, but not try and influence the outcome in any way. I am sure he's smart enough to realize what's happening in Wisconsin, Ohio and others are petri dishes to judge voters appetites for serious budget cuts. The results may become a harbinger on the federal level.
Marcy in Florida:
No, he should invite them to the White House and have a beer with them.
Gerry in Ash Fork, Arizona:
President Obama should keep his mouth shut. The states have sovereign rights to deal with this issue. We know where Obama is coming from as rabble rousing and labor unions are his forte. Jack, go back a few decades to corporations Seatrain and Kaiser Steel and see what a thorough job the unions did in destroying them.
Peg in New York:
Hard to say, Jack. On one hand, someone needs to be the voice of reason in Wisconsin. On the other hand, the voters made their choice at the polls. Whether they understood it at the time or not, they voted in and empowered a Tea Party candidate. In my opinion, let his actions speak for themselves. Maybe non-voters will wake up.