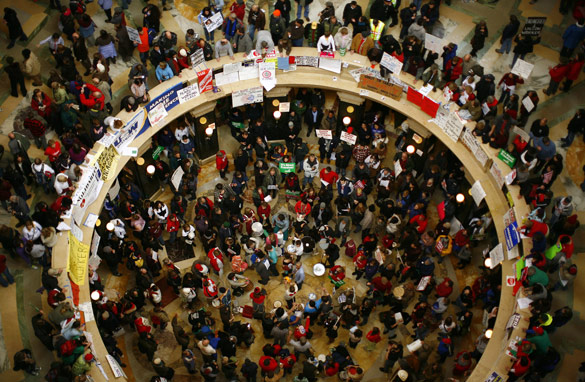 Demonstrators protest inside the state capitol today in Madison, Wisconsin. (PHOTO CREDIT: GETTY IMAGES)
FROM CNN's Jack Cafferty:
The showdown in Wisconsin over Governor Scott Walker's proposal to restrict the collective bargaining rights of public sector unions as a way of dealing with the state's budget deficit has put President Obama in a tough spot.
He doesn't want it to appear that he's turned his back on public sector unions. After all, their support helped him win the presidency in 2008.
But at the same time, his federal government is staring at deficits the likes of which we've never seen before, and there is no sign he or the Congress are about to do anything meaningful to address them.
Last week, the president told a Milwaukee television station: "Everybody's got to make some adjustments to new fiscal realities" but then later added the proposed cuts seem "more like an assault on unions."
That second part got under some Republicans' collars.
Republican Senator Lindsey Graham called the comment "inappropriate" and said the President should focus on what's happening in Washington, not Wisconsin.
And Wisconsin's unions likely won't be the last to be targeted for cuts. A new government report finds that combined federal, state and local government debt now exceeds the size of our entire economy. Ohio and Florida also have new Republican governors who are trying to make deep cuts to balance their budgets, and many other states are facing tough decisions, as well.
Here's my question to you: Should President Obama stay out of Wisconsin's budget battles?
Interested to know which ones made it on air?