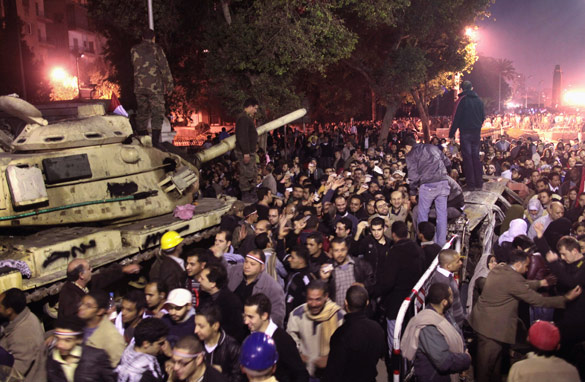 People enter Tahrir Square as news of the possible resignation of Egyptian President Hosni Mubarak seeped out today in Cairo. (PHOTO CREDIT: GETTY IMAGES)
FROM CNN's Jack Cafferty:
They have come for more than two weeks now. Egyptian protesters by the hundreds of thousands filling Tahrir Square and demanding change. Now it looks like they're going to get it.
These courageous people have been risking their lives day in, day out because they have finally had enough.
They've put their lives on the line for political change in a country where many of them have known nothing but Mubarak's regime. This is a country where the median age is 24.
Mubarak has been in power for 30 years.
Mubarak's government became corrupt and inefficient. Egyptian citizens got fed up with high unemployment and a bleak future while their leader, Hosni Mubarak, became one of the wealthiest men in the world, worth as much as $70 billion.
As the days passed, the movement has only grown stronger. Remarkably, it has remained a largely peaceful revolution. There was almost no violence until the day that armed pro-Mubarak thugs rode in on camels and horses.
Some demonstrators paid the ultimate price. Human Rights Watch confirms 300 Egyptians have died during the uprising and they say that number could double or triple or go even higher.
As Americans sit back and watch this history unfold from the comfort of our living rooms, it's hard to imagine what - if anything - could compel us in 2011 to do the same.
We did once, but that was long ago and much has changed. How bad would things need to get in the United States for Americans to stand up and demand change?
Here's my question to you: What would it take to get Americans into the street like Egypt's protesters?