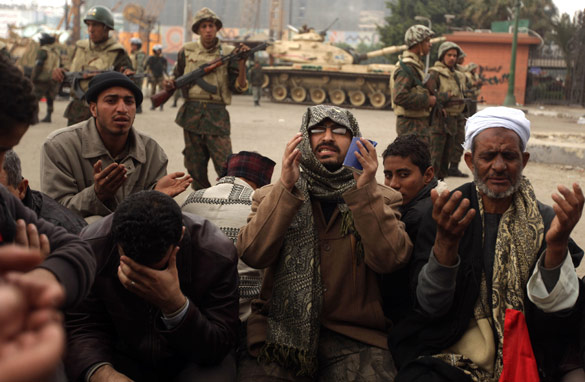 Egyptian anti-government demonstrators and members of the Egyptian Muslim Brotherhood movement pray in front of Egyptian soldiers at Cairo's Tahrir square. (PHOTO CREDIT: PATRICK BAZ/AFP/Getty Images)
FROM CNN's Jack Cafferty:
As the drama in Egypt unfolds - there are growing questions about what role the Muslim Brotherhood should play.
You see, the group has a split image. Some see it as a hostile Islamic group that includes dangerous fundamentalists. Others say it's merely another opposition group in Egypt - that should play a role in whatever comes next.
The Brotherhood has been banned in Egypt for decades, but still has a following. It is the largest and most organized opposition movement. In a 2005 parliamentary election, its candidates - running as Independents - won 20% of the seats.
The Muslim Brotherhood has been part of recent meetings about political reform in Egypt.
Its leaders insist they are not seeking power... saying they want to participate, but not dominate. The group also says it rejects a religious state.
But not everyone believes them - and for good reason. Critics point to proclamations of violence and connect the Brotherhood to terrorist groups like Hamas.
They say the Brotherhood doesn't believe in equality between Muslims and Christians... or between men and women.
The Jerusalem Post reports on a 1995 book called "Jihad is the Way" - written by a former head of the Muslim Brotherhood in Egypt.
The book details the group's goal of a global Islamic conquest. It suggests jihad is not only meant to fend off enemies, but to establish an Islamic state, strengthen the religion and spread it around the world.
It's easy to understand why some aren't so trusting of them.
Here's my question to you: What role should the Muslim Brotherhood play in Egypt's future?
Interested to know which ones made it on air?
Richard in Kansas writes:
I suspect the Muslim Brotherhood will play much the same role in their political system that the Christian right plays in ours. All countries have their share of religious extremists who would like to impose their beliefs on everyone else. We can only pray (yes, pray) that there are enough sensible, well- balanced people engaged in the process to keep the zealots at bay.
Joe in Houston writes:
People in other countries reading U.S. journalists' account of the Tea Party Movement could draw the same conclusions you've detailed here. Some say it's a bunch of gun-toting rednecks bent on destroying the country while others say its aim is to save the very same republic. It's none of their business how we conduct our politics and it's none of ours how Egypt conducts its politics.
Joe in Maryland writes:
None. My hope for Egypt is that moderate intellectuals will grab the reins of the country and direct Egypt into a solid, successful and peaceful existence.
Harold in Anchorage, Alaska writes:
Probably about the same as our own fundamentalist groups - a gadfly to progress from out-of-the-past.
Carolyn writes:
The Brotherhood should play their role as advertised: an Islamic voice for reason and moderation in the Middle East. Can you think of a better way to sock it to the West than to actually honor their campaign promises?
Ken in Pinon Hills, California writes:
I don't know, but I can see how religious groups play a role in our country. It seems we are always jumping politically through hoops over gay marriage and abortion. It clouds or downright blinds us emotionally in choosing our leaders. One wonders how that will play out in our future.
Bob in Quebec writes:
They should play any role the Egyptian people think they should play. It's none of our business.