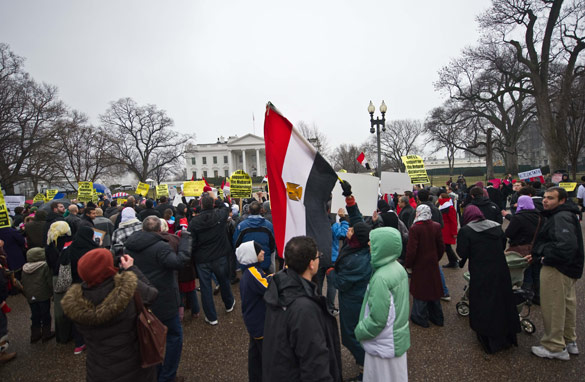 People demonstrated in support of Egypt's uprising against President Hosni Mubarak in front of the White House earlier this week. Secretary of State Clinton called for international support for an orderly transition to democracy, warning of forces that might try to derail it. (PHOTO CREDIT: NICHOLAS KAMM/AFP/Getty Images)
FROM CNN's Jack Cafferty:
Dealing with politics in the Middle East can be tantamount to juggling hand grenades, but some think the Obama administration is making a mess of its response to the crisis in Egypt.
The White House is sending out mixed messages.
First, President Barack Obama said Egypt's transition "must be meaningful, it must be peaceful and it must begin now," and It looked like the administration was taking steps to increase pressure on Hosni Mubarak to step aside. Well, maybe not.
Since then, Mubarak has made it clear he's not going anywhere until September. He says he needs to stick around to maintain stability.
So the administration is changing its tune. Now Robert Gibbs, the White House press secretary, says the process in Egypt will be "bumpy" and that "it's going to take some time to work this stuff out."
Meanwhile, the administration is undercutting its own diplomat, Frank Wisner. They sent him to Egypt to negotiate directly with Mubarak.
Upon his return, Wisner said Mubarak should stay in office - at least for now so he can hand over authority in an orderly manner. But Gibbs says Wisner doesn't speak for the administration. Gibbs says the Egyptians should decide the details of the transition.
Potential Republican presidential candidate Newt Gingrich calls all this back-and-forth "amateurish." Gingrich says he's concerned about the administration's handling of the situation and that it can't get on the same page as its special envoy.
Here's my question to you: How would you rate the Obama administration's handling of the crisis in Egypt?
Interested to know which ones made it on air?
Rose in Glendale, Arizona writes:
I believe that the Obama administration should get a below average grade on the crisis in Egypt. First, it appears they were taken by surprise by the uprising and it took them too long to even make a statement. Second, sending a credible diplomat to assess the situation and then stating that he doesn't speak for the administration most certainly sends a mixed message. To sum it up, I don't think they know what they are doing.
Riley in Seattle writes:
For walking a tricky tightrope, the Obama administration gets full marks; for seizing the moment, zero. Like Reagan at the Berlin Wall, this "transformational" president had his moment in history. Coming out clear and true on the side of human rights and letting the chips fall would have been his game-changer.
Dan in Clifton, Virginia writes:
I'll give them a C+. They haven't done anything helpful, but they also haven't done anything harmful. Frankly, I'm not sure what people want them to do. If they back the protesters, they'll get slammed for turning their backs on an ally. If they back Mubarak, they'll get slammed by the same people for supporting an oppressive regime. Let's face it, Newt Gingrich was going to slam Obama no matter how he handled this.
Valerie in Raleigh, North Carolina writes:
The president hit just the right tone. He urged Mubarak to leave. He expressed his support for democracy but did not inject himself and America into this situation. Leaders of other countries did the same. This is an Egyptian problem and should be solved by Egyptians.
Jevon in Ledgewood, New Jersey writes:
Considering that we have to work with whoever ends up at the top of the pyramid, I think Obama's high-wire walk has been excellent so far...especially since the wire is barbed!