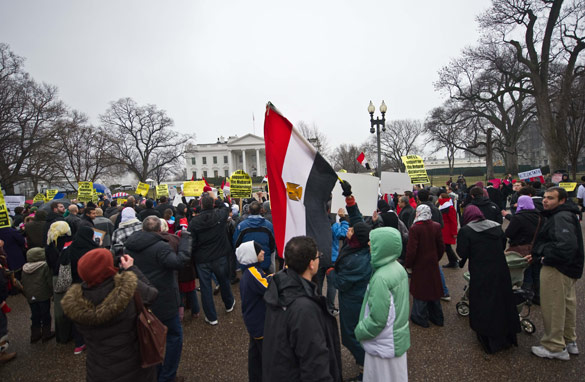 People demonstrated in support of Egypt's uprising against President Hosni Mubarak in front of the White House earlier this week. Secretary of State Clinton called for international support for an orderly transition to democracy, warning of forces that might try to derail it. (PHOTO CREDIT: NICHOLAS KAMM/AFP/Getty Images)
FROM CNN's Jack Cafferty:
Dealing with politics in the Middle East can be tantamount to juggling hand grenades, but some think the Obama administration is making a mess of its response to the crisis in Egypt.
The White House is sending out mixed messages.
First, President Barack Obama said Egypt's transition "must be meaningful, it must be peaceful and it must begin now," and It looked like the administration was taking steps to increase pressure on Hosni Mubarak to step aside. Well, maybe not.
Since then, Mubarak has made it clear he's not going anywhere until September. He says he needs to stick around to maintain stability.
So the administration is changing its tune. Now Robert Gibbs, the White House press secretary, says the process in Egypt will be "bumpy" and that "it's going to take some time to work this stuff out."
Meanwhile, the administration is undercutting its own diplomat, Frank Wisner. They sent him to Egypt to negotiate directly with Mubarak.
Upon his return, Wisner said Mubarak should stay in office - at least for now so he can hand over authority in an orderly manner. But Gibbs says Wisner doesn't speak for the administration. Gibbs says the Egyptians should decide the details of the transition.
Potential Republican presidential candidate Newt Gingrich calls all this back-and-forth "amateurish." Gingrich says he's concerned about the administration's handling of the situation and that it can't get on the same page as its special envoy.
Here's my question to you: How would you rate the Obama administration's handling of the crisis in Egypt?
Interested to know which ones made it on air?