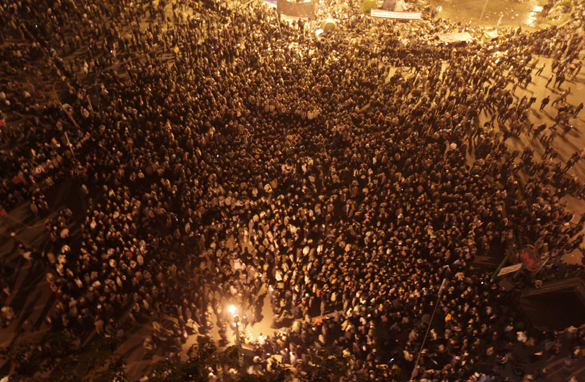 Egyptian anti-government demonstrators gather in Cairo on this 10th day of protests calling for the ouster of President Hosni Mubarak. (PHOTO CREDIT: PATRICK BAZ/AFP/Getty Images)
FROM CNN's Jack Cafferty:
The Egyptian people are not buying what Hosni Mubarak is selling.
In fact, the anti-government protesters have only become more emboldened since Mubarak's announcement that he'll step down from the presidency - but not until September.
But they want him gone now. They think 30 years is long enough.
However, that doesn't seem to matter much to Mubarak.
He told ABC's Christiane Amanpour that he's sick of being president and would like to leave office now. But he says he can't for fear of the country slipping into chaos. That's as opposed to what we're seeing in the streets of Cairo right now.
As for the people shouting insults at him, Mubarak says, "I don't care what people say about me. Right now I care about my country, I care about Egypt."
Earlier this week, President Obama seemed to suggest Mubarak step down sooner rather than later, saying an orderly transition to a new regime "must begin now."
U.S. officials say the protest movement isn't going away - it's only getting bigger. They worry that the longer the crisis goes on without a resolution, the worse the economic impact and violence will become. Already there are food and fuel shortages and bank closures.
Other world leaders have also called on Mubarak to step aside, including Turkey's prime minister, who says Mubarak should "satisfy the people's desire for change" without hesitation.
Others are suggesting an interim "caretaker government" that could oversee the upcoming elections.
Here's my question to you: Should Mubarak be forced out now rather than waiting until his term expires in September?
Interested to know which ones made it on air?