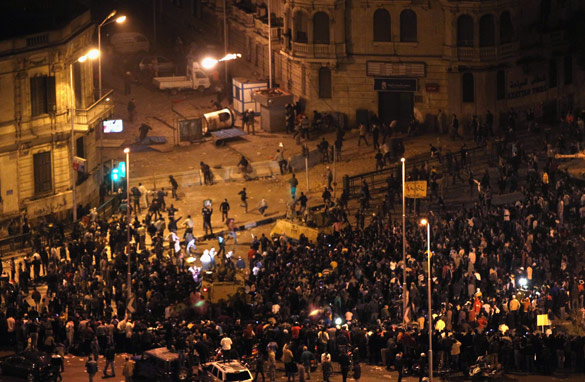 A Molotov cocktail thrown by a supporter of Egyptian President Hosni Mubarak arcs through the air towards government opponents in a side street during a violent conflict between the two groups in Cairo. (PHOTO CREDIT: GETTY IMAGES)
FROM CNN's Jack Cafferty:
The Middle East is starting to look like one big game of dominoes.
As the kings, unelected presidents and emirs watch what's going on in the streets of Cairo, they've got to be wondering if they're going to be next.
Egyptian President Hosni Mubarak's days are clearly numbered. At this point, it seems highly unlikely he'll even make it through the rest of his term.
Mubarak would be following Tunisian President Zine El Abedine Ben Ali out the door after similar popular street movements pushed him out of power.
No doubt about it, some sort of genie is out of the bottle.
Yemen President Ali Abdullah Saleh says he won't seek re-election when his term ends in 2013. That's after more than three decades in office. He also says he won't hand power over to his son.
Of course, he made that announcement ahead of a "day of rage" protest scheduled for Thursday.
Thousands of people have already been demonstrating in Yemen in recent weeks.
Over in Jordan, King Abdullah has sacked his government and appointed a new prime minister in the face of protests. The king is asking the new government to implement what he calls "genuine political reform."
It's funny how "reform" has suddenly become a priority in some of these countries after decades of repressive governments.
Meanwhile, demonstrators also are calling for change in Algeria and Sudan. And in Syria, there are protests planned for this week.
Experts say these protests sweeping across the Middle East and North Africa are "unprecedented" and a "watershed event for the Arab world."
For now, the leadership in Saudi Arabia and Libya seems secure, but it's safe to say a new day is dawning.
Here's my question to you: What's next for the Middle East?
Interested to know which ones made it on air?
Mark in Arkansas writes:
Jack, Don't worry about what's next in the Middle East. Worry about what's next in America. The riots in the Middle East are economic-related. They're driven by high unemployment, economic disaster, and a government that doesn't do its job. Sound familiar? I'm sure Greece, France and Ireland understand perfectly what's happening in Egypt.
Dave in Vancouver writes:
What's next for the Middle East is playing catch-up on nearly a thousand years of human rights history, from Britain's Magna Carta in 1215 until a desperate Tunisian set himself on fire last month. In a let's-get-it-done-by-breakfast world, already precariously balanced, this is not a task for the faint-hearted.
B. in Pennsylvania writes:
I think we can expect to see more people taking to the streets in other Middle Eastern countries seeking change. It's like a fever that sweeps over an area and everyone catches it. What is next for us is higher oil prices.
Nick in San Diego writes:
If we side with the people for democratic reform in that whole region and tell Israel to get serious concerning the Palestinians or the money stops NOW, we'll be ok. If not, brace ourselves for more 9-11's.
Lou in Iowa writes:
What's next is we finally see if democracy is really all we've been building it up to be.
Carla writes:
More of the same. The Middle East has been a hotbed of unrest since God was a little boy. It's not going to change. And our interference will only result in more Americans being sent home in pine boxes and a bigger hole in our budget. It's not our business. I doubt seriously that the Egyptians are sitting about asking each other what's next for Chicago or Des Moines.