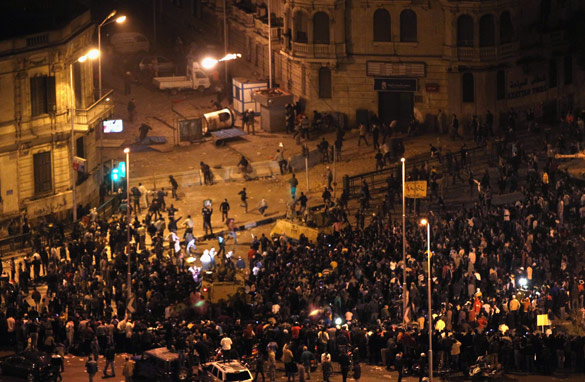 A Molotov cocktail thrown by a supporter of Egyptian President Hosni Mubarak arcs through the air towards government opponents in a side street during a violent conflict between the two groups in Cairo. (PHOTO CREDIT: GETTY IMAGES)
FROM CNN's Jack Cafferty:
The Middle East is starting to look like one big game of dominoes.
As the kings, unelected presidents and emirs watch what's going on in the streets of Cairo, they've got to be wondering if they're going to be next.
Egyptian President Hosni Mubarak's days are clearly numbered. At this point, it seems highly unlikely he'll even make it through the rest of his term.
Mubarak would be following Tunisian President Zine El Abedine Ben Ali out the door after similar popular street movements pushed him out of power.
No doubt about it, some sort of genie is out of the bottle.
Yemen President Ali Abdullah Saleh says he won't seek re-election when his term ends in 2013. That's after more than three decades in office. He also says he won't hand power over to his son.
Of course, he made that announcement ahead of a "day of rage" protest scheduled for Thursday.
Thousands of people have already been demonstrating in Yemen in recent weeks.
Over in Jordan, King Abdullah has sacked his government and appointed a new prime minister in the face of protests. The king is asking the new government to implement what he calls "genuine political reform."
It's funny how "reform" has suddenly become a priority in some of these countries after decades of repressive governments.
Meanwhile, demonstrators also are calling for change in Algeria and Sudan. And in Syria, there are protests planned for this week.
Experts say these protests sweeping across the Middle East and North Africa are "unprecedented" and a "watershed event for the Arab world."
For now, the leadership in Saudi Arabia and Libya seems secure, but it's safe to say a new day is dawning.
Here's my question to you: What's next for the Middle East?
Interested to know which ones made it on air?