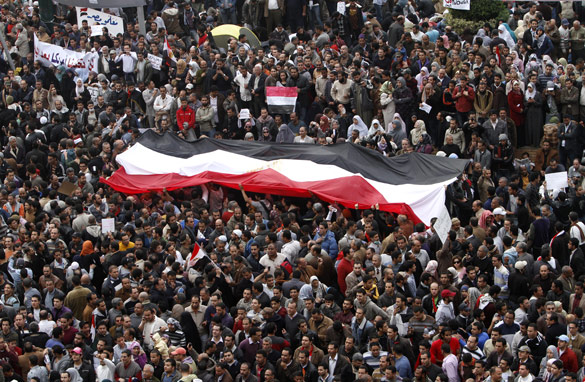 Egyptian protesters take part in a demonstration today on Cairo's Tahrir Square. (PHOTO CREDIT: MOHAMMED ABED/AFP/Getty Images)
FROM CNN's Jack Cafferty:
As Egyptian protesters demanding reform fill the streets by the hundreds of thousands, it's worth remembering that the U.S. helps control the purse strings in that country.
American taxpayers give $1.5 billion dollars a year in foreign aid to Egypt, second only to Israel.
Although the White House has said it's reviewing this aid depending on the military's behavior - One top Republican says now is not the time to threaten to withhold any of this money.
Congresswoman Kay Granger - who chairs the house subcommittee in charge of foreign aid - says we shouldn't use the money as a stick to force Mubarak into reforms.
Granger says most of the $1.5 billion goes toward the military - which seems to be a stabilizing force among the demonstrators.
Granger says Congress should only consider withholding aid if there's evidence that U.S. military equipment is being used improperly.
Several top Democrats are on the same page, saying the U.S. should remain committed to assisting Egypt. They point to the close relationship between the two countries.
Nonetheless, some experts think cutting financial aid is the best way to get results.
A bipartisan group of former officials says the administration should suspend all aid to Egypt until the government:
Agrees to elections as soon as possible, allows banned candidates to run, immediately lifts the state of emergency that's been in place for decades, releases political prisoners, and allows for freedom of the media and assembly.
Here's my question to you: Should the U.S. withhold any of its $1.5 billion in financial aid to Egypt?
Interested to know which ones made it on air?