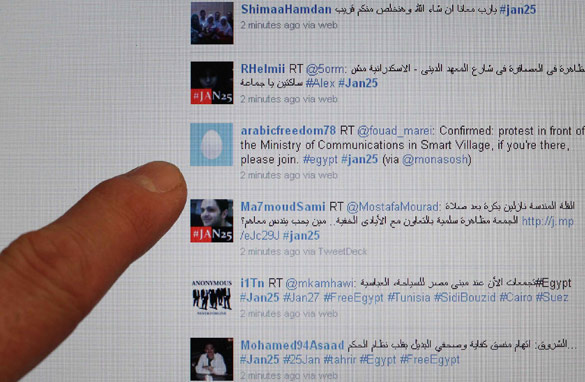 A Twitter feed regarding demonstrations in Cairo, Egypt. (PHOTO CREDIT: GETTY IMAGES)
FROM CNN's Jack Cafferty:
As popular uprisings sweep the Middle East, it's hard to underestimate the role played by social media and new technology.
Twitter, Facebook, YouTube, cell phones and even cable news outlets are putting a tremendous amount of power right into the hands of the people. And don't think for a second that the rest of the Arab world isn't watching.
For starters, these communication tools allow ordinary citizens to plan and organize protests in a way that was unthinkable just a few years ago. They can spread the word about mass protests, ensuring more people will show up. In turn, the sheer size of some of these protests makes it close to impossible for officials to stop them.
Thanks to Facebook and Twitter, these protests aren't happening in a vacuum as they might have decades ago.
When young Egyptians take to the streets by the thousands, the world is seeing it and hearing about it in real time through texts, tweets, pictures and videos. It's also why governments, such as those in Egypt or Iran, have tried to crack down on the internet and some of these websites.
In the case of Egypt, social media sites have also put pressure on Washington to act more quickly. With so much information leaking out, it became impossible for the U.S. to downplay what was going on and stay out of it.
No surprise that other dictators in the Middle East are worried. And they should be - they could be next.
Interested to know which ones made it on air?
H.J. writes:
This is great news. Well, the actual news isn't great, but the idea of social media is. Governments and large businesses no longer have total control over the media and public opinion. This is a great counterbalance to the power struggle in the world.
Sean in Michigan writes:
Dictatorships can only thrive when they can control information. As long as those who are being repressed can find a way to get the information out, the dictators will have a hard time and will likely crumble all the more quickly. Social media is only one way to spread information. As long as the internet exists, there will be ways to use it. I think we are witnessing the end of the totalitarian state as a form of governance.
Eric writes:
Some in the news media are leading viewers to conclude that the Egyptian protesters are mostly secular, non-violent, not anti-American, and somewhat more Westernized than protesters we have seen in other Arab countries. To that end, where are the Egyptian women protestors? I've seen only men.
John writes:
This instant technology is wonderful. It shows the whole world in real time what monsters govern these countries. After 30 years of repression, Mubarak is doomed. My only hope is that democracy will take over. It seems democracy would be the logical choice since Facebook and Twitter are the very essence of free speech.
Ahmed writes:
Social media are redefining the dynamics of popular revolt. The need for a central figure to drive a revolution is replaced by the collective consciousness of the masses.
Joyce writes:
OMG. If we had had all this technology back in the 1960s and 1970s, how different the U.S. would be today! Just think how many folks would have shown up for MLK, the March on Washington and our own Days of Rage. And what would have happened at Kent State?