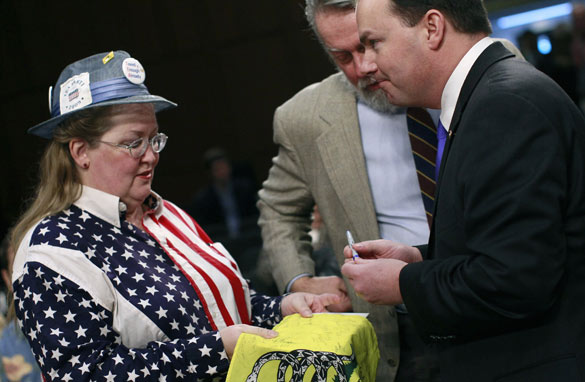 Sen. Mike Lee (R-UT) greets a supporter during the first meeting of the U.S. Senate Tea Party Caucus today on Capitol Hill. (PHOTO CREDIT: GETTY IMAGES)
FROM CNN's Jack Cafferty:
For those who thought the Tea Party was a passing fad, it might be time to reconsider:
For starters, it seems like the Tea Partiers may be among the only people in Washington who are serious about reining in government spending.
While Democrats and Republicans talk... and talk... and talk about cutting spending and reducing our skyrocketing deficits and $14 trillion national debt, some in the Tea Party have real solutions.
Newly elected Senator Rand Paul of Kentucky is proposing cutting $500 billion from federal spending in just one year. To be sure, he has some drastic suggestions - including cutting $42 billion from the food stamp program and $16 billion from the wars in Afghanistan and Iraq.
Also on Paul's cutting block: the Departments of Energy and Housing and Urban Development, most of the Department of Education, the Corporation for Public Broadcasting and the National Endowment for the Arts. Massive cuts also for Homeland Security, the federal court system and the FDA. And that's just some of it.
Paul says he hopes he can start a dialogue in Congress about how to save the economy. It's clear that Paul and his fellow Tea Partiers are going to put some serious pressure on the republican leadership.
In fact, they already have. Look no further than Michele Bachmann's response to the president's state of the union address this week. it's unheard of to have two responses... but the republican leadership was afraid to say no.
Here's my question to you: Is the Tea Party the answer to finally getting government spending under control?
Interested to know which ones made it on air?
K.B. writes:
The idea is what is important: cuts need to be made and we need to get our fiscal house in order. The Tea Party is the voice for this now, but it should be a call from all politicians.
Thomas in New Mexico writes:
The Tea Party, of which I am a proud member, may not be the only group to put pressure on these big-spending politicians, but it sure doesn't hurt. The more, the better. One does not get steam without pressure. How in the world can Democrats push to increase the debt ceiling just so they can keep on spending? They didn't even deliver a budget back in October 2010 when it was due
Susan in Alabama writes:
No, but it is the long-term answer to getting the lunatic fringe out of the GOP so they can be a respectable political party again some day. In the short term, it'll help Democrats in 2012. In that respect, I'm all for it.
Pat in Virginia writes:
Yes. It is about time that someone stood up and said enough is enough. These folks seem to be serious about cutting. Now we will see if any of the rest of our Congress is brave enough to take a position. At least maybe we can force them to make votes that show that they are for more and more spending. Then we can remind the voters about those votes in two years.
Ray in Knoxville, Tennessee writes:
Jack, The Tea Partiers aren't the answer to anything in this country. The movement is mostly white and exclusively right, far right. Undoing all the social legislation and New Deal regulations of the 1960s and 1930s has long been a dream of this segment of the population and they see our spending crisis as their opportunity to do so.
C. in Massachusetts writes:
Some Tea Party ideas are good, radically clear and rational. It's the wacky messengers that are the problem.