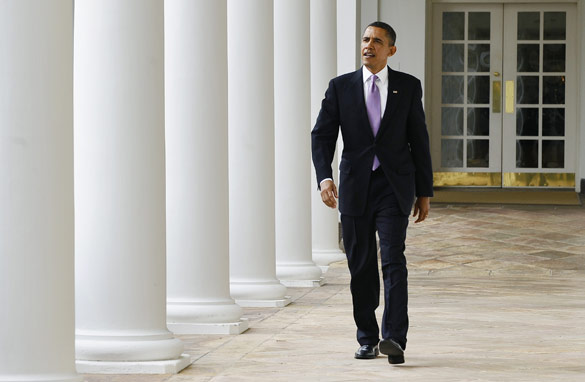 President Barack Obama walks along the colonnade from the Oval Office this morning. He is set to deliver his State of the Union address tonight at 9 p.m. ET. (PHOTO CREDIT: JEWEL SAMAD/AFP/Getty Images)
FROM CNN's Jack Cafferty:
As President Obama gets ready to deliver his State of the Union address in just a few hours, a new poll shows Americans are feeling better about the state of that union than they have in almost four years.
The CNN/Opinion Research Corporation poll shows 43 percent of those surveyed say things are going well in the U.S. - that's up 14 points in just a month.
A majority - 56 percent - still say things are going badly. But that number is down sharply from 71 percent last month.
The poll shows college graduates and people in the Midwest are most optimistic. Also, urban and suburban Americans seem more optimistic than those in rural areas.
There's a partisan divide here too - with Democrats and Independents more likely to say things are going well than Republicans.
So why the sharp increase and why now?
Experts say part of the reason is the public's growing optimism about the economy.
But there are non-economic reasons at play here as well:
People are often more optimistic at the start of a new year. Other factors could include:Tthe more civil tone in political debate since the Tucson shootings, the fact that there wasn't a terror attack over the holidays, and the perception that the lame duck Congress actually accomplished some things in December.
Whatever the reason, we'll take it. And the rise in optimism means the president should be playing to a friendlier crowd tonight.
Here's my question to you: What's behind America's surge in optimism?
Interested to know which ones made it on air?