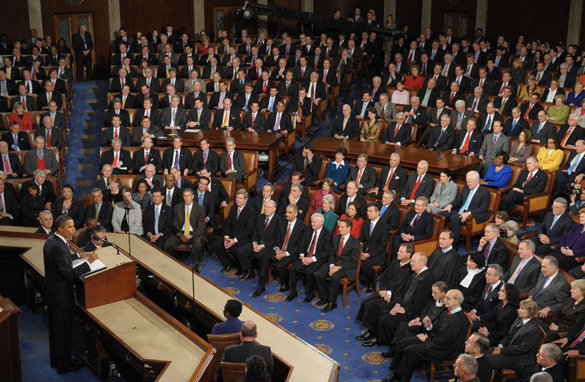 FILE PHOTO: The State of the Union address on January 27, 2010. (PHOTO CREDIT: SAUL LOEB/AFP/GETTY IMAGES)
FROM CNN's Jack Cafferty:
In light of the Tucson shootings, it looks like we're in for a very different State of the Union address this year.
The president's annual message to Congress is usually full of partisan theatrics - one half of the room applauds and stands while the other sits on their hands. Last year, Supreme Court Justice Samuel Alito mouthed the words "Not true" when the president criticized a Supreme Court decision.
Partisan rancor and rudeness were also on full display last year. Remember when a Republican congressman yelled "You lie" in the middle of the President's health care speech?
But it's highly likely we'll see anything like that tomorrow night. The mood is different this time. President Obama and other lawmakers have been talking about changing the tone of the talk in Washington. In a video preview of the speech, the president calls on the nation to "come together" and to "focus on what binds us together as a people."
And not unlike a high school prom, all of Capitol Hill is also aflutter when it comes to the seating arrangements for tomorrow night. Many members of Congress are crossing the aisle - and will sit with a "date" from the other party. Whether if any of this good will remains once the speech ends remains to be seen.
Meanwhile John Avlon writes for the Daily Beast that we may be seeing an end to the era of "hyperpartisan talking points and canned anger." Wouldn't that be nice?
Avlon points to several signs that Americans have had enough, including: Keith Olbermann's departure from MSNBC, Glenn Beck's declining ratings and loss of advertisers at the F-word network, as well as Sarah Palin's plummeting approval ratings.
Here's my question to you: How will the Tucson shootings affect the State of the Union address?
Interested to know which ones made it on air?
Gary in Scottsdale, Arizona writes:
There can be no doubt Obama's primary focus will be on jobs, the economy and the deficit because that's where the votes are. But, I'd bet money, marbles or chalk the Tucson tragedy will be touched upon as a need for greater civility throughout the land - including Washington.
Renee in Illinois writes:
More civility from the people responsible for running this country? APPLAUSE, APPLAUSE! I just think we're living in pretty sad times when it takes a horrific shooting like the one in Tucson to accomplish it.
Kate writes:
Not very much. The old rivalry is still there between the parties and no matter where they sit it will not change anything.
Bonnie in New Jersey writes:
It will take a lot more than sitting with your "date" to convince me that partisan politics is a thing of the past. The examples you have mentioned of changes at MSNBC and Fox are due to us, not them. I believe the tragedy will make our politicians' behavior less juvenile.
Peg in New York writes:
Bipartisanship will be shown as will genuine civility. How I hope this can last.
A. writes:
Although the President Obama's State of the Union address will focus on the jobs and the economy, the address should also focus on civility in our public discourse and domestic security (gun control). President Obama should implore the nation to return to common sense and common decency.
Russ in Pennsylvania writes:
I don't know as I'll be watching a Netflix movie.