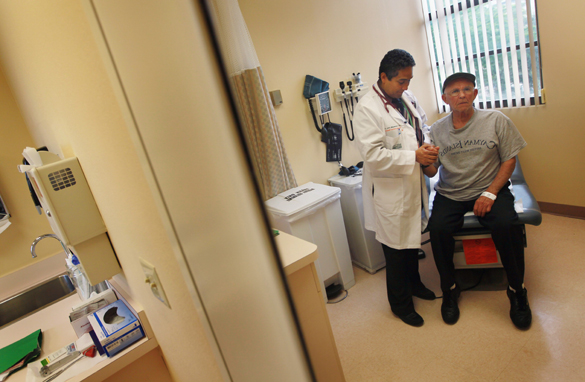 (PHOTO CREDIT: GETTY IMAGES)
FROM CNN's Jack Cafferty:
It may be the law of the land, but there are a lot of people who want to get rid of health care reform.
The house voted 245-to-189 to repeal President Obama's signature law - with three Democrats joining the unanimous Republican vote.
The bill is unlikely to see the light of day in the Senate... and if it ever makes it to President Obama's desk, he'll veto it. Republicans acknowledge repeal is highly unlikely - so they may try to cut funding for parts of the law or eliminate specific provisions.
Democrats call the repeal vote a "gimmick."
Really? Not exactly.
It's not just house Republicans who are against the health care reform law. Not by a long shot.
More than half the states in the union are challenging the law in court. Another six states have now joined a Florida lawsuit, bringing the total in that suit to 26 states. Plus, Virginia has filed a separate lawsuit; and Oklahoma says it will do the same.
The states insist the law is unconstitutional because it forces people to buy health insurance. They might be right.
A Thomson Reuters poll shows that an overwhelming 65 percent of doctors say health care reform will mean worse care for patients over the next five years. Only 18 percent think the new law will mean better care. Those are pretty stunning numbers - better than three to one - and these are doctors.
Finally, most of the American people are not sold on this thing either. A recent CNN/Opinion Research Corporation poll shows 50% want the new law repealed. Only 42% would choose to keep it as is.
Here's my question to you: What does it mean if more than half the states are fighting the new health care law in court?
Interested to know which ones made it on air?
Jason writes:
A number of states fought against the 13th and 14th amendments. A number of states fought against the Brown v. Board of Education decision. A number of states fought against the Civil Rights Act. Nonetheless, we continued on the path of justice and continued paving the road to equality. Now we stand at the forefront of another storm, and I believe we will continue marching undaunted in the face of the naysayers.
Jeff in Minnesota writes:
There is a lot in the health care reform law that passed last year that doesn't add up. It needs to be fixed.
Chrisanne writes:
It means the whole system has to change, not just some parts of the system. This is process, and is a good sign that we will eventually have the kind of health care in this country that we need.
Shari writes:
Jack, To me, it would mean that more than half the states are idiotic. I know the law is not perfect but it's better than the status quo. I have a pre-existing condition and without this law I would be unable to get insurance if I would lose my job.
G. writes:
If our leaders had been wise enough to create a single-payer system, we wouldn't have to be going through such nonsense.
Bob in Ontario writes:
Jack, I suspect that the original legislation was such a convoluted, complex bill that no one could be exactly certain what it entailed in terms of expense to the individual or to the quality of future health care. Try asking politicians pointed questions as to its contents and I suspect that you will get varied responses. Unless a more transparent bill that answers basic questions can be structured, the health care law should be challenged in court.
Susan in Idaho writes:
They smell a rat.