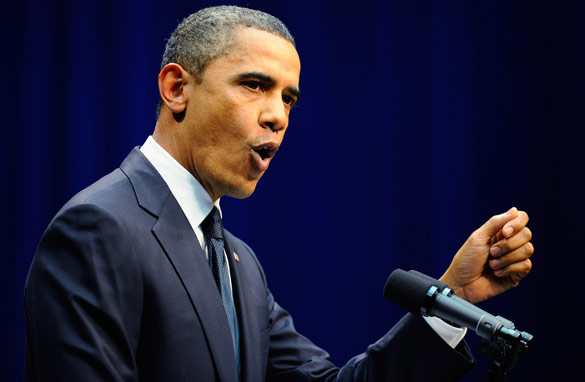 (PHOTO CREDIT: GETTY IMAGES)
FROM CNN's Jack Cafferty:
It was one of President Obama's finer moments.
Speaking to a full auditorium in Tucson - and the wider television audience of a grieving nation - the president told Americans, "We can be better."
In light of the massacre of innocents and a country more divided than ever, Mr. Obama said it's time to talk to each other "in a way that heals, not in a way that wounds."
As he eulogized the dead, the president said while we may not be able to stop all evil in the world, how we treat one another is entirely up to us. Mr. Obama spoke at length about Christina Taylor Green, the 9-year-old girl who was killed, saying that he wants "our democracy to be as good as she imagined it."
The president walked a fine line as he tried to stay above the partisan blame game that has evolved since this tragedy. He said, "the forces that divide us are not as strong as the forces that unite us."
Many believe the speech was just what the doctor ordered for a country reeling from the shootings and weary of years of divisive politics. But in the long run how much will it matter?
There's still a dark side to what happened in Tucson last weekend. A very dark side.
An aide to Sarah Palin says there are a record number of death threats against Palin since the Arizona shootings. Her aides are looking to step up her security.
This stuff is ugly and scary and very much begs the question of what we are becoming.
Here's my question to you: Will the Tucson massacre change the tone of the political debate in this country?
Interested to know which ones made it on air?
Michele writes:
It is my fear that all sides will find inspiration in this tragedy and that the divide will only intensify. Civility is not a partisan issue; it is a respect issue and those who continue to disrespect their fellow citizens, regardless of where their political affiliation lies, will only find fuel for their angry fires.
Peter in Tarrytown, New York writes:
No, it won't. Reasoned, logical and sensible adult conversation doesn't get air time. Loud, stupid and ignorant conversation does.
Jerry in Toronto writes:
Jack, I would surely hope so, but, I doubt it. Predictably everything will quiet down for a spell, but as the next election fires up it will be back to business as usual. For politicians, there is no middle ground when their job is on the line. They'll do and say whatever it takes to get elected then blame everyone else when horrific situations happen like the one in Tucson. It's just another day to them. So sad.
Deb writes:
If this doesn't change it, what will? We react to other countries and their problems but we're really in denial about the severity of our issues here at home. As soon as all political parties start uniting in the U.S., violence will have less of voice.
Joe in Florida writes:
Jack, No, this event will not have any effect on dampening the sharp exchanges between competing interests. A ribald debate is what was anticipated and expected in a free democracy. To expect less is to diminish American democracy.
Karl in Michigan writes:
It will only if the parties involved take an active roll in monitoring themselves and their members. This includes the political parties and the media. We can't keep going down the road we are on and not do permanent damage to our society.
Ken in North Carolina writes:
The odds of winning the lottery are about 1 in 176 million. The odds of politicians changing the tone of political debate in this country are less than that.