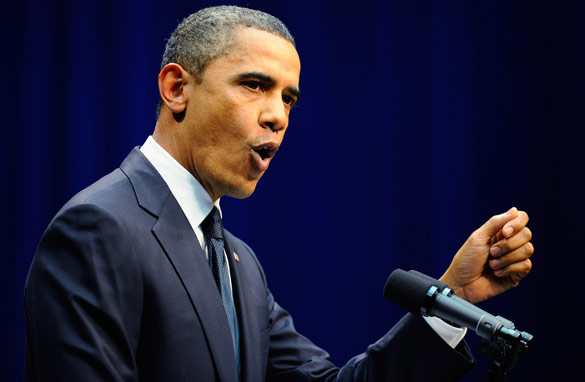 (PHOTO CREDIT: GETTY IMAGES)
FROM CNN's Jack Cafferty:
It was one of President Obama's finer moments.
Speaking to a full auditorium in Tucson - and the wider television audience of a grieving nation - the president told Americans, "We can be better."
In light of the massacre of innocents and a country more divided than ever, Mr. Obama said it's time to talk to each other "in a way that heals, not in a way that wounds."
As he eulogized the dead, the president said while we may not be able to stop all evil in the world, how we treat one another is entirely up to us. Mr. Obama spoke at length about Christina Taylor Green, the 9-year-old girl who was killed, saying that he wants "our democracy to be as good as she imagined it."
The president walked a fine line as he tried to stay above the partisan blame game that has evolved since this tragedy. He said, "the forces that divide us are not as strong as the forces that unite us."
Many believe the speech was just what the doctor ordered for a country reeling from the shootings and weary of years of divisive politics. But in the long run how much will it matter?
There's still a dark side to what happened in Tucson last weekend. A very dark side.
An aide to Sarah Palin says there are a record number of death threats against Palin since the Arizona shootings. Her aides are looking to step up her security.
This stuff is ugly and scary and very much begs the question of what we are becoming.
Here's my question to you: Will the Tucson massacre change the tone of the political debate in this country?
Interested to know which ones made it on air?