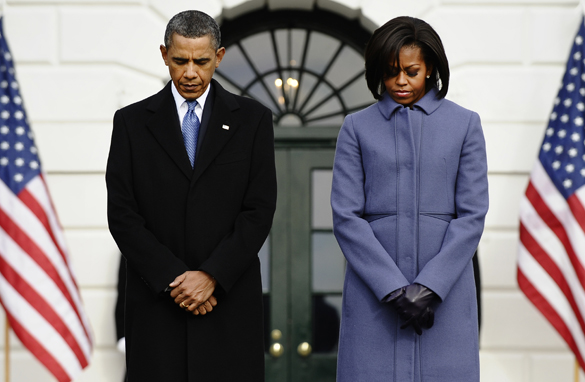 President Obama and First Lady Michelle Obama observed a moment of silence yesterday to honor the victims  of the Arizona tragedy. (PHOTO CREDIT: JEWEL SAMAD/AFP/Getty Images)
FROM CNN's Jack Cafferty:
It is the nature of events that confront our leaders that often serve to define them.
In the wake of the Tucson massacre, President Obama has been given an opportunity to deliver on a promise he made long ago: to raise the level of political discourse and by so doing to unify this country.
Politico has an excellent piece on how this tragedy presents Mr. Obama the chance to elevate the nasty tone of politics; much like Bill Clinton did after the Oklahoma City bombing.
Political analysts say that the president could use this experience to help move the country to a higher moral ground.
This is a promise the president first made in his famous 2004 speech at the Democratic National Convention. And civil discourse is something he also talked about tirelessly on the campaign trail and since he's been in office.
But action speaks louder than words, and in the last two years we haven't seen much, if any, of this in Washington. In fact, the partisan divisions and heated rhetoric between the two sides are arguably worse than they've ever been.
And President Obama, at times, has been part of the problem. During the campaign, then-candidate Obama said of countering Republican attacks, "if they bring a knife to the fight, we bring a gun." And more recently, in the lead-up to the midterms, the president referred to Republicans as "enemies."
The president has called the Tucson shootings "a tragedy for the entire country." He's headed there on Wednesday. A nation increasingly weary of anger and division will be listening.
Here's my question to you: What can President Obama say in Tucson to ease the pain?
Interested to know which ones made it on air?
Dianne writes:
He can't. All he can do is acknowledge the pain. There is some comfort in simply having one's pain acknowledged.
Carol in Massachusetts writes:
He should be more community organizer, less professor. Pres. Obama should focus on the good people of America, heroes at the shooting site, health care providers... the things that make us more alike than different. And in the end, he should react as a father of two young daughters.
Rita writes:
The president, by going to Tucson, shares his humanity. He can't ease the pain, but as a man and president he can share in it.
Marvin in Polo, Missouri writes:
Jack, I think that President Obama needs to use the tragedy in Tucson as an example of what we can expect in the future if we do not unite as a country and work together to solve the problems we face. He needs to tell the American people what their lives will be like if we continue to fight each other.
John in Alabama writes:
Jack, Sometimes there is nothing that can be said to ease the pain of those who have lost loved ones. President Obama's appearance at a memorial service alone is a strong sign that this nation mourns the loss of life in Tucson. The president's message should be very personal and directed to those whose loss is the greatest.
Michael in New Mexico writes:
At an elementary school in Tucson, there is an empty desk. It belonged to a little girl whose classmates sit in shock and wait for an explanation. There is an empty bench in a court room where justice goes unanswered. In Washington, there is an empty seat where the voice of half a million people goes unheard. President Obama must give us back that voice, for justice, for the future of those children.