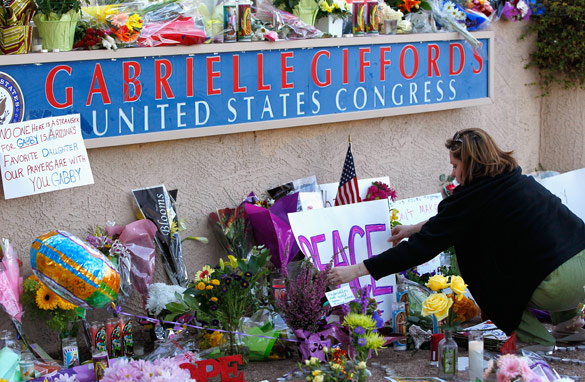 Well-wishers leave flowers, candles and notes outside the district office of U.S. Rep. Gabrielle Giffords (D-AZ). (PHOTO CREDIT: GETTY IMAGES)
FROM CNN's Jack Cafferty:
It was probably only a matter of time.
For the past two years, the political rhetoric in this country has quickly grown more hateful, angry and divisive.
We've seen guns at rallies and signs with nasty and racist slogans. And now we have the tragedy in Tucson, Arizona. Is there a link between this inflammatory rhetoric and the shooting of U.S. Rep. Gabrielle Giffords and 19 others, six of whom are dead? Bet on it.
Several lawmakers from both sides of the aisle are now calling for the political rhetoric to be toned down. They say politicians need to "cool it" and to think about "how our words affect people."
There's an idea!
This is happening at the same time some of them are deciding to start carrying guns.
Many are pointing fingers at Sarah Palin, who makes incendiary and irresponsible comments with some regularity. Palin once tweeted concerning the health care debate, "Don't retreat, instead - RELOAD!"
She posted a map online before the midterms showing crosshairs over 20 contested Democratic districts, including Giffords'.
At the time, Giffords said, "When people do that, they've got to realize there are consequences to that action."
Since the shooting, Palin has expressed her condolences and said she hates violence.
The Tea Party movement, which has also been a cauldron of inflammatory rhetoric, is distancing itself from the tragedy, condemning what happened.
But even if there is no direct correlation here, people such as Palin could bear some indirect responsibility for the mindset of the shooter and others like him.
Here's my question to you: What can be done to tone down the hateful rhetoric in this country?
Interested to know which ones made it on air?
David in Tampa writes:
Jack, I doubt very seriously things will change much. Our politicians have about as short an attention span as the rest of us. By next week, all will be forgotten and we will be back to stupidity as usual. Partisan rancor, common sense subjugated by ideological dogma and civility gone out the window. Thus feeding more hate-filled words for the real nut cases to justify violence as a means of attaining their agenda. "Where have all the flowers gone?"
Bob writes:
Ask FOX News. Ask Limbaugh. Ask Palin. Ask Michele Bachmann. Ask the loonie right. Ask Tea Partiers. Ask Angle. Ask Gingrich. Oh, ask crazy old McCain. He inflicted on America this destructive virus called Palin. Want more?
Jane in Wisconsin writes:
Instead of pointing fingers at Sarah Palin or the Tea Party, maybe we need to look at the effects of all the violence our kids are exposed to on TV, in the movies, in the music they are listening to, etc. If we are to believe that kids can't view a cigarette commercial because it will cause them to smoke, what kind of effect does all the sex and violence they see have on them?
Rick writes:
Pull the plug on Fox News, or refer to it as what it is: a watering hole for gun-loving, simple-minded, easily led Neanderthals who respond to cliches and sound-bites designed to keep them in blissful ignorance.
P. in Harrisburg writes:
Jack, Journalists and broadcasters need to take the lead and look to offer more light than heat... If journalists and pundits have nothing to say, then just shut up... The yelling and screaming that goes on the various discussion panels contributes to the confusion. Politicians who are extremists should be given less air time. Folks think if they can see it on TV, it must be the standard.
S. writes:
Hate speech is a cheap way to attract and hold attention. Fear motivates the ignorant and superstitious among us. In the short run, these techniques can add members to a party. In the long run, they end in infamy. I long for the return of statesmanship and true leadership in government. Intellect, love of country, a vision for a better future- imagine if these characteristics held our attention and our admiration. What a world that would be.