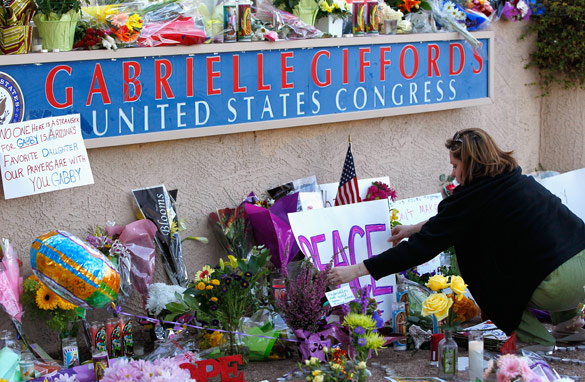 Well-wishers leave flowers, candles and notes outside the district office of U.S. Rep. Gabrielle Giffords (D-AZ). (PHOTO CREDIT: GETTY IMAGES)
FROM CNN's Jack Cafferty:
It was probably only a matter of time.
For the past two years, the political rhetoric in this country has quickly grown more hateful, angry and divisive.
We've seen guns at rallies and signs with nasty and racist slogans. And now we have the tragedy in Tucson, Arizona. Is there a link between this inflammatory rhetoric and the shooting of U.S. Rep. Gabrielle Giffords and 19 others, six of whom are dead? Bet on it.
Several lawmakers from both sides of the aisle are now calling for the political rhetoric to be toned down. They say politicians need to "cool it" and to think about "how our words affect people."
There's an idea!
This is happening at the same time some of them are deciding to start carrying guns.
Many are pointing fingers at Sarah Palin, who makes incendiary and irresponsible comments with some regularity. Palin once tweeted concerning the health care debate, "Don't retreat, instead - RELOAD!"
She posted a map online before the midterms showing crosshairs over 20 contested Democratic districts, including Giffords'.
At the time, Giffords said, "When people do that, they've got to realize there are consequences to that action."
Since the shooting, Palin has expressed her condolences and said she hates violence.
The Tea Party movement, which has also been a cauldron of inflammatory rhetoric, is distancing itself from the tragedy, condemning what happened.
But even if there is no direct correlation here, people such as Palin could bear some indirect responsibility for the mindset of the shooter and others like him.
Here's my question to you: What can be done to tone down the hateful rhetoric in this country?
Interested to know which ones made it on air?