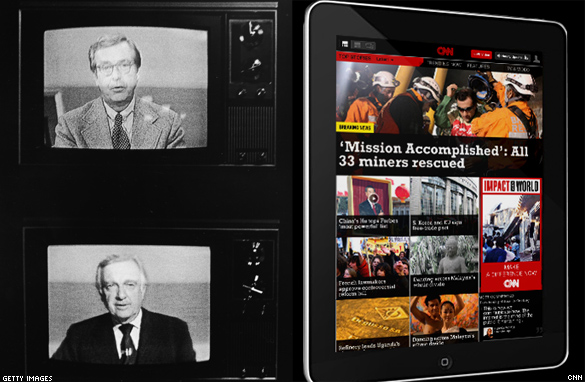 PHOTO CREDIT: GETTY IMAGES(L), CNN (R)
FROM CNN's Jack Cafferty:
We - meaning those of us in television news - may soon go the way of the dinosaurs.
A new report shows that the Internet is gaining on television as Americans' main source of national and international news.
The Pew survey shows overall 41% of those polled say they get their news from the Internet - that's up 17 percent from just three years ago.
Television still tops the list as the main news source at 66%, but that number is down significantly from 82% as recently as 2002.
Newspapers and radio are at the bottom of the heap in this survey.
Although the use of the Internet for news is growing among all age groups - it's especially pronounced among young people.
For the first time in 2010, the Internet was the main source of news for those under 30 years old.
There are also differences when it comes to education and income.
The survey found college graduates are just as likely to get their news from the Internet as television, while those who only have a high school diploma are much more likely to say TV is their top source of news.
When it comes to money, it's not a big surprise that wealthier people are more likely to get their news from the Internet than those with incomes under $30,000.
So - take a good look at Wolf and me while you still have the chance!
Here's my question to you: Is the internet destined to replace television as the primary source of news?
Interested to know which ones made it on air?
Rich in Texas writes:
Not for a while yet. Even if people look at their computer screens instead of their TV screens, there will still be a need for responsible news reporting that people trust. The internet has no police or lie detector, which makes it very hard to tell what is true and what is not true. Since anyone can post to the internet, bad information flies around like crazy.
Bob in Ohio writes:
Unfortunately, the validity of television as a news source has become highly suspect because of biased news presentation by certain other networks. People who are able to think for themselves can get all sides of a story online easier than on television. I hope this doesn't mean I can't think for myself because I watch the Situation Room.
Jerry in Georgia writes:
Television is approaching an event horizon. It will be almost totally replaced by the internet in the very near future. Television will share a small place in inter-human communications as about as significant as ham radios today.
Frankie writes:
My computer has a newer screen than my television. I believe TV and the internet are going to become the same thing before too long. We will always need newsmen and newswomen however the technology changes. Not to worry!
Arlene in Illinois writes:
Well, Jack, welcome to the wonderful world of retirement!
Jim in Craig, Colorado writes:
You are making a distinction that is rapidly disappearing. I watch about half of my television via the internet. Right now I am watching Al Jazeera (English) via the internet because it is not available on cable/satellite here. I am also responding via the internet to a question you just posed on TV. I am using what was bought as a TV as a monitor, so it works great when I watch TV via the internet.
Bill writes:
No, Jack, there are still those of us who are sometimes just too lazy to read.
Carol in Northampton, Massachusetts writes:
You have a blog, Jack. That's 21st century; you are cool. We may be looking at you and Wolf on our little screens soon though.