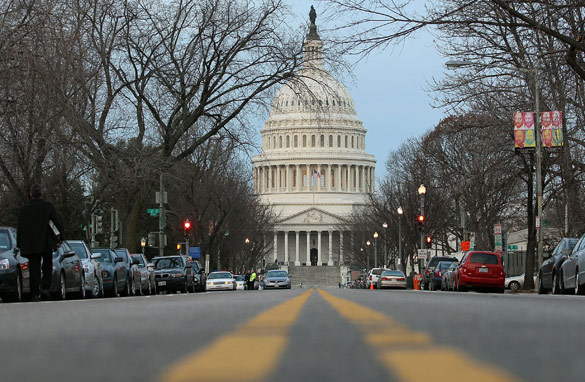 (PHOTO CREDIT: GETTY IMAGES)
FROM CNN's Jack Cafferty:
As the new Congress convenes today, the next election in 2012 already looms as a possible impediment to the Democrats' Senate majority.
Politico reports that several moderate Democratic Senators up for re-election in two years will be more likely to buck their own party in order to save their seats.
And it's already started. During the lame duck session of Congress, when Harry Reid tried to prevent an extension of the Bush tax cuts to the wealthy, three moderate Democrats defected. When the Republicans proposed deep spending cuts, two more Democrats joined them. And yet another moderate jumped ship when Reid pushed through President Obama's tax compromise.
In all, 21 Senate Democrats - plus two Independents who caucus with them - will be up for re-election in 2012.
You can bet these Democrats are well aware of the "shellacking" their party took in the midterms; and they don't want to be the next casualty. As Senator Claire McCaskill - who is up for re-election herself - puts it: "If you're in re-elect mode, there's a tendency around here just to hide under a chair instead of making the tough calls."
Meanwhile Republicans are worried that Senate Democrats may try to eliminate the use of the filibuster now that they have a smaller majority of 53 seats. Some Democrats are proposing a rule change that would require only a simple majority of 51 votes - instead of 60 votes - to break a filibuster.
The GOP calls this a "naked partisan power grab."
Here's my question to you: How effective can Senate Democrats be if some moderate members are already looking ahead to 2012?
Interested to know which ones made it on air?
Loren writes:
How effective should they be? Clearly, the electorate was unhappy with the programs of the Democratic Party. If a minority of that party continues to choose programs that are unwanted by the American people, do all members of the party have to support those programs? The joy of democracy is that when the people speak, the elected dance.
Kathie writes:
Face it, Jack. The people we elected to represent us are only interested in themselves and their own re-election. Another reason that term limits are needed.
Tony writes:
Senate Democrats will have to start thinking about their careers and distance themselves from the Pelosi-Reid politics of the past several years. If that happens, perhaps we can get this economy going, get more people working and eliminate the idiotic parts of the so-called health care reform bill. It always comes down to "me first and the people second." Now they had better listen or the people will speak loudly in 2012 as they did this past November.
Adam in California writes:
The midterms were a referendum on the left's politics, and unless they come from districts that are full of nanny-state ideologues, they better wake-up. Obamacare is a stone around the neck of every "yes" voter. The majority of Americans do not want to live in a European-style Social Democracy and the ones who do are free to move there. I'll help them pack.
Randy writes:
Jack, This left, right, moderate concept is getting as old as the Harlem Globetrotters. The Globetrotters (Republicans) always win and play the Generals (Democrats) for fools while both teams laugh all the way to the bank(ers). The real losers are always the poor and middle class Americans who fall for this charade every 2-4 years.
Philip writes:
Enough with the re-election talk! We just elected a newly batch of weasels that hopefully can concentrate on doing the job they were meant to do!