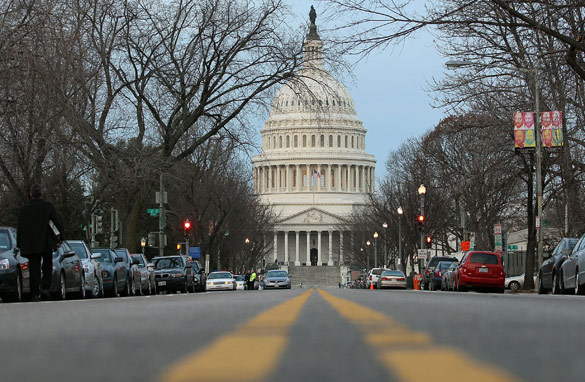 (PHOTO CREDIT: GETTY IMAGES)
FROM CNN's Jack Cafferty:
As the new Congress convenes today, the next election in 2012 already looms as a possible impediment to the Democrats' Senate majority.
Politico reports that several moderate Democratic Senators up for re-election in two years will be more likely to buck their own party in order to save their seats.
And it's already started. During the lame duck session of Congress, when Harry Reid tried to prevent an extension of the Bush tax cuts to the wealthy, three moderate Democrats defected. When the Republicans proposed deep spending cuts, two more Democrats joined them. And yet another moderate jumped ship when Reid pushed through President Obama's tax compromise.
In all, 21 Senate Democrats - plus two Independents who caucus with them - will be up for re-election in 2012.
You can bet these Democrats are well aware of the "shellacking" their party took in the midterms; and they don't want to be the next casualty. As Senator Claire McCaskill - who is up for re-election herself - puts it: "If you're in re-elect mode, there's a tendency around here just to hide under a chair instead of making the tough calls."
Meanwhile Republicans are worried that Senate Democrats may try to eliminate the use of the filibuster now that they have a smaller majority of 53 seats. Some Democrats are proposing a rule change that would require only a simple majority of 51 votes - instead of 60 votes - to break a filibuster.
The GOP calls this a "naked partisan power grab."
Here's my question to you: How effective can Senate Democrats be if some moderate members are already looking ahead to 2012?
Interested to know which ones made it on air?