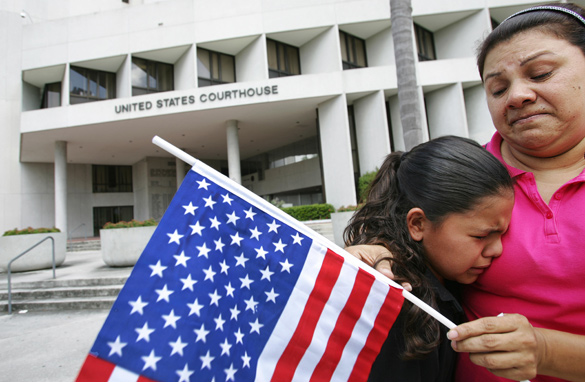 (PHOTO CREDIT: ROBERTO SCHMIDT/AFP/Getty Images)
FROM CNN's Jack Cafferty:
14 states are considering passing laws that would deny citizenship to children born of illegal immigrants in the United States.
Arizona - ever at the front of the immigration debate - could take the first step when it comes to the issue of "birthright citizenship."
Arizona lawmakers plan to introduce model legislation in Washington tomorrow that would force the Supreme Court to weigh in on the issue.
Lawmakers from more than a dozen other states plan to be there too - that includes everywhere from other border states like Texas to Utah, Oklahoma, Michigan, Delaware and Pennsylvania.
This all goes back to the 14th Amendment - which states that all persons "born or naturalized" in the United States are citizens of the U.S. The law was initially meant to give citizenship to freed slaves.
Those behind this new push say it wasn't meant to apply to children of foreigners. They say illegal immigrants and their children are draining taxpayer-funded services, and that they're attracting more illegal aliens to this country.
And they have a point... any of our states are drowning in budget deficits - estimated to top $140 billion in fiscal year 2012. They're making drastic cuts to all sorts of services - like education and health care, police forces, state workers, you name it...
Critics of an effort to end birthright citizenship say these attempts to take on the 14th Amendment could cost big bucks in legal challenges. They also say the issue is a federal one.
And we all know how serious the federal government is when it comes to dealing with illegal immigration.
Here's my question to you: Should states deny citizenship to children born of illegal immigrants?
Interested to know which ones made it on air?
H. writes:
Arizona's proposal not to issue state birth certificates to children born of illegal aliens will do more to reduce the number of illegal aliens in the state than any previous law. Without a state-issued birth certificate the child won't be able to collect benefits in ANY state... Illegal aliens will no longer want their children to be born in Arizona and thus will not settle there.
Nate writes:
When we start bending or breaking our constitutionally-guaranteed rights because of fear, what do we have left? Shouldn't we be concentrating on improving the economic situation in Mexico and keeping folks from being able to enter the country, rather than changing our country's laws to address this problem? Also, where did the compassion of "give me your tired, your poor, your huddled masses" go?
Sylvia in California writes:
Jack, It is no secret that many pregnant woman cross the border illegally to have their "anchor babies" born in the U.S. I applaud those states that are tired of paying for them and are saying "enough already"! It sickens me when the Democratic liberals try to paint this as a "racist" issue. I am a Latina and I find nothing racist about a country trying to get a hold of its borders.
Jenny in Nanuet, New York writes:
No! It is not the fault of the children that they were born here. America is their country. Employers should be punished for hiring people they know aren't here legally. Until then, people will continue coming here looking for work and babies will continue being born here. Don't blame the innocent children!
Nathan writes:
I am a legal immigrant. I stood in line, attended interviews, paid taxes and became part of society. I have never run a single red light. I have never broken any law. I came here legally, live here legally. It took me 15 years to go through the process. I am all for that. I say this to point out the unfairness of all this. This is spitting in the face of all those trying to get the process done legally. And 100% the illegals have incentive to come here because they can have anchor babies.
Paul in Hawaii writes:
So, Jack, If my pregnant wife and I were visiting your home, and she just happened to have the baby in your home, should you be forced to support MY kid? Providing him with food, clothing, shelter and health coverage until he turns 26?