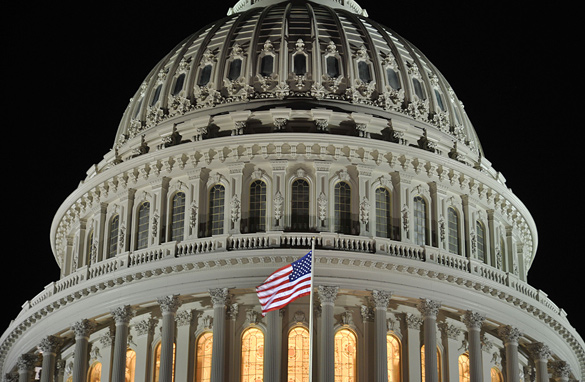 (PHOTO CREDIT: GETTY IMAGES)
FROM CNN's Jack Cafferty:
As the new Congress gets down to business this week, there's no shortage of issues waiting to be addressed.
House Republicans say they will fulfill a campaign promise and vote to repeal President Obama's health care law before he delivers his State of the Union address.
Seems like a pretty futile exercise - even if such a repeal were to pass the house, it's unlikely to go anywhere in the Senate since the Democrats still hold a slim majority there. Plus, President Obama could veto it.
Also, by focusing on health care - when much of the country is still worried about jobs - Republicans risk making the same mistake Democrats did when they plowed ahead with health care in the first place.
The GOP also has its eye on other legislation passed by the Democratic congress - like new limits on greenhouse gas emissions and the reach of entitlement programs. Some are calling for various investigations into the Obama administration...
Just what we need, tying up the Congress with investigations at a time when there are other huge issues out there - like the economy, immigration and the skyrocketing deficit. Republicans have vowed to tackle government spending, but they'll soon have to decide whether they want to raise the debt ceiling, once again, from $14.3 trillion.
Meanwhile, a majority of Americans are optimistic about the new year. A new Gallup poll shows 58 percent say 2011 will be better than 2010. 20 percent say it will be worse and 21 percent say it will be the same.
The poll suggests Democrats and young Americans are more positive than Independents, Republicans and older Americans about the coming year.
Here's my question to you: What's the most important issue facing the country in 2011?
Interested to know which ones made it on air?
Dave in Florida writes:
Three things: Jobs, everything else and jobs.
Langston writes:
Entitlements, entitlements, entitlements. Our government is a massive entitlements vending machine which is deferring costs as far as possible into the future burdening later generations. Unless policy changes are made, projected spending for Medicare, Medicaid, Social Security, and federal employee retirement programs alone will consume all tax revenues collected by 2030.
Sam writes:
Reducing the deficit must be a top priority. Although it's not a major short-term problem, the plans to reduce it must be set in place now or it may not happen until it's too late.
Richard in Michigan writes:
Cynicism is the greatest problem we are facing. We won't be able to solve anything if insults, disrespect, and sarcasm replace legitimate political discussion. It may play well on the newscasts, but dueling sound bites and snarky pundit commentary aren't doing a thing for the rest of us.
Steve in Clifton, Virginia writes:
The most important issue facing the country for 2011 is just the application of common sense for the common good of the American people. Let us not confuse the debate with fellow citizens within our borders with enemies outside of our borders.
Kevin in California writes:
A second financial meltdown. This time from states defaulting on bonds, massive cuts by states and the possible collapse of the Euro.
Stacy in Florida writes:
Getting the unemployed to go to school to learn a trade or profession. I read where there are a lot of jobs that need to be filled but can't be filled due to unqualified people.
Helen writes:
Happy New Year, Jack! The top issue for 2011: the economy. I hope this year you will ask more intelligent questions. No more stupid Palin questions.