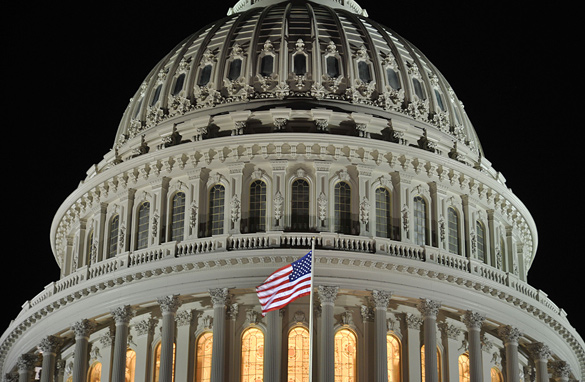 (PHOTO CREDIT: GETTY IMAGES)
FROM CNN's Jack Cafferty:
As the new Congress gets down to business this week, there's no shortage of issues waiting to be addressed.
House Republicans say they will fulfill a campaign promise and vote to repeal President Obama's health care law before he delivers his State of the Union address.
Seems like a pretty futile exercise - even if such a repeal were to pass the house, it's unlikely to go anywhere in the Senate since the Democrats still hold a slim majority there. Plus, President Obama could veto it.
Also, by focusing on health care - when much of the country is still worried about jobs - Republicans risk making the same mistake Democrats did when they plowed ahead with health care in the first place.
The GOP also has its eye on other legislation passed by the Democratic congress - like new limits on greenhouse gas emissions and the reach of entitlement programs. Some are calling for various investigations into the Obama administration...
Just what we need, tying up the Congress with investigations at a time when there are other huge issues out there - like the economy, immigration and the skyrocketing deficit. Republicans have vowed to tackle government spending, but they'll soon have to decide whether they want to raise the debt ceiling, once again, from $14.3 trillion.
Meanwhile, a majority of Americans are optimistic about the new year. A new Gallup poll shows 58 percent say 2011 will be better than 2010. 20 percent say it will be worse and 21 percent say it will be the same.
The poll suggests Democrats and young Americans are more positive than Independents, Republicans and older Americans about the coming year.
Here's my question to you: What's the most important issue facing the country in 2011?
Interested to know which ones made it on air?