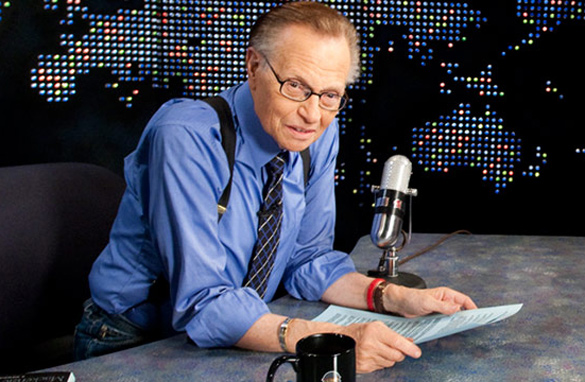 (PHOTO CREDIT: LOU ROCCO/CNN)
FROM CNN's Jack Cafferty:
Tonight night marks the end of an era - not just at CNN but in cable television.
Larry King will do his final live, nightly broadcast for CNN at 9 p.m. ET tonight. And when he walks out of the building, there will be a space that will never be filled quite the same way again.
In fact, if it weren't for King, it's entirely possible I wouldn't be doing this job right now. And a lot of the rest of us in this business wouldn't be either.
When CNN was in its infancy and the rest of television was laughing at Ted Turner's idea, King came along and put this network on his back and carried it until its credentials as a viable news organization were accepted by the viewing public.
And along the way, he became the gold standard for talk television. So many of his interviews made the news elsewhere.
There wasn't anyone in the last 25 years he didn't talk to on CNN - including Presidents Richard Nixon, Gerald Ford, Jimmy Carter, Ronald Reagan, Bill Clinton, George H.W. and George W. Bush, and Barack Obama.
Entertainers such as Marlon Brando, Johnny Cash, Paul McCartney and Barbra Streisand - virtually everyone from the world of show business - and foreign leaders such as Mikhail Gorbachev, Margaret Thatcher, Nelson Mandela and Vladimir Putin. Impressive doesn't do justice to his resume.
He also was very kind to a first-time author when something called "It's Getting Ugly Out There" was published.
I have known Larry since my days at WNBC-TV in New York when he would occasionally be a guest on my program there, "Live at Five."
He's a class act. He's my friend. And I, along with millions of television viewers, will miss him.
Here's my question to you: What will you remember most about Larry King?
Interested to know which ones made it on air?
Bob in Ohio writes:
I will remember that once upon a time interviews were conducted with courtesy, class, and civility, while at the same time addressing important topics. That's why most of the world's prominent figures were willing to sit down with Mr. King.
Toni writes:
I had to get up at 3am to make my husband's lunch and send him to work. The radio show by Larry King was the most entertaining radio program that I ever heard. Pretty soon, I was looking forward to getting up at that hour so that I could listen to Larry. The sports commentary intrigued me even though I wasn't much of a sports fan. His knowledge amazed me. Larry King and I became inseparable. He'll always be a part of my life...and he doesn't even know it!
Karen in Idaho writes:
I will remember the episodes featuring Jack Hanna. Larry was always so afraid of the reptiles and bugs and Jack delighted in putting them on Larry's jacket and making him touch them. We got many a laugh from the two of them.
Nancy in Reno, Nevada writes:
Before CNN, I was a single mom raising 3 children by dressmaking at home. I survived by working late at night (after tucking the kids in) listening to Larry on the radio. His funny stories and irreverent kiss-offs to rude callers kept me awake, kept me informed, kept me laughing and working. Thank you Larry King for helping support my kids! All three are college grads now, and one is a doctor!
Lois writes:
The different shapes and colors of his suspenders, and how he always puts his hands under his chin following each question he asks. Cool!
Nancy in Texas writes:
Known for his open-ended interviews and diplomatic comments, he is a true gentleman and good listener. Media does not need to give us all young and good looking people. We want substance and intelligence.
Patrick in Arizona writes:
I type this with a great big smile on my face, "Hello, Altoona! Altoona, you're on!" in his signature raspy voice. An absolute pleasure to watch!
Steve in Florida writes:
Listening to Larry's Miami radio show at 2 in the morning to keep me company on my regular trips from Miami to the Florida Keys. That and his interview with Abraham Lincoln.