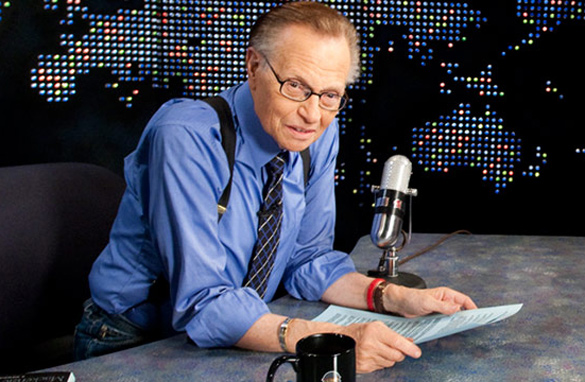 (PHOTO CREDIT: LOU ROCCO/CNN)
FROM CNN's Jack Cafferty:
Tonight night marks the end of an era - not just at CNN but in cable television.
Larry King will do his final live, nightly broadcast for CNN at 9 p.m. ET tonight. And when he walks out of the building, there will be a space that will never be filled quite the same way again.
In fact, if it weren't for King, it's entirely possible I wouldn't be doing this job right now. And a lot of the rest of us in this business wouldn't be either.
When CNN was in its infancy and the rest of television was laughing at Ted Turner's idea, King came along and put this network on his back and carried it until its credentials as a viable news organization were accepted by the viewing public.
And along the way, he became the gold standard for talk television. So many of his interviews made the news elsewhere.
There wasn't anyone in the last 25 years he didn't talk to on CNN - including Presidents Richard Nixon, Gerald Ford, Jimmy Carter, Ronald Reagan, Bill Clinton, George H.W. and George W. Bush, and Barack Obama.
Entertainers such as Marlon Brando, Johnny Cash, Paul McCartney and Barbra Streisand - virtually everyone from the world of show business - and foreign leaders such as Mikhail Gorbachev, Margaret Thatcher, Nelson Mandela and Vladimir Putin. Impressive doesn't do justice to his resume.
He also was very kind to a first-time author when something called "It's Getting Ugly Out There" was published.
I have known Larry since my days at WNBC-TV in New York when he would occasionally be a guest on my program there, "Live at Five."
He's a class act. He's my friend. And I, along with millions of television viewers, will miss him.
Here's my question to you: What will you remember most about Larry King?
Interested to know which ones made it on air?