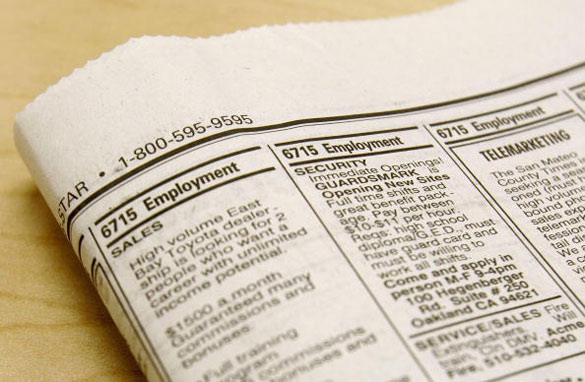 (PHOTO CREDIT: GETTY IMAGES)
FROM CNN's Jack Cafferty:
As millions of Americans continue to suffer from the troubled economy, there are signs that things may be looking up. It's very slow going, but there are some glimmers of hope.
For millions of Americans it's about a job - and unemployment remains stubbornly high, at just under 10 percent.
But economists have a more optimistic outlook for 2011: They're predicting three percent growth in GDP next year. It's not a runaway train, but not terrible either compared to where we've been. Experts have also reduced the odds of a double-dip recession to only about 15 percent.
However, the Federal Reserve struck a cautious note on economic recovery yesterday, saying it is "continuing, though at a rate that has been insufficient to bring down unemployment."
The extension of the Bush tax cuts - which passed the Senate a few hours ago - will likely become law soon, as will the extension of unemployment benefits. These measures should bring added relief to nearly everyone.
As for government spending, there's a new sheriff in charge of the Congress.
Republicans are vowing to tackle spending next year after the tax cut extension goes through. It remains to be seen how serious they are about spending cuts - or if they too will continue to add to our $13-plus trillion national debt.
For investors, the stock market is behaving okay, and businesses have a lot of cash on hand. If they ever become convinced things are finally on the mend, they can start hiring and investing.
So how do you think all these ripples in the economy will affect you and your family?
Here's my question to you: Do you expect to be better or worse off one year from now?
Interested to know which ones made it on air?
Dave in Vancouver writes:
We'll all be better off a year from now. One year is "short term" in the economic scheme of things. It's two or three years down the road that we've got to worry about, when all the global stimulus spending has worked its way through the system and the pumps runs dry, and all the houses of cards come tumbling down. Greece, Ireland, Portugal and Spain are mere foreshadowing, canaries in the coal mine.
Renee in Peoria, Illinois writes:
I'm guardedly optimistic that I'll be better off in a year's time. Unfortunately, I have little control over the matter. After all, the same people who caused the recession just retook control of Congress and I'm poor. The day the GOP bends over backwards to help the poor, I will know for certain the apocalypse is upon us.
Brian writes:
I honestly think I will be better off. The government needs to focus on job creation instead of the debt. For once in my life, I have faith in the Republicans.
Amanda in Reseda, California writes:
I will be better off. My country, I'm not so sure. Maybe this is the natural cycle of entropy that all empires must go through, or maybe we're just doomed by our own hubris, but I don't see any way out of this economic calamity for the U.S. Some people will weather it, and some will be destroyed by it. I personally have already lost nearly everything, but things are starting to look up, and I expect the trend to continue, at least personally.
Jeff in North Carolina writes:
Things were supposed to get better this year. Remember the "summer of recovery?" I don't have much hope for next year either.
Burt in Arizona writes:
I'm on Social Security. With the deficit looming due to the extension of the Bush tax cuts, inflation will increase. With no cost of living for Social Security, I will be worse off.
Jan writes:
To borrow a line from Jim Morrison and the Doors: "I've been down so very damn long, that it looks like up to me."