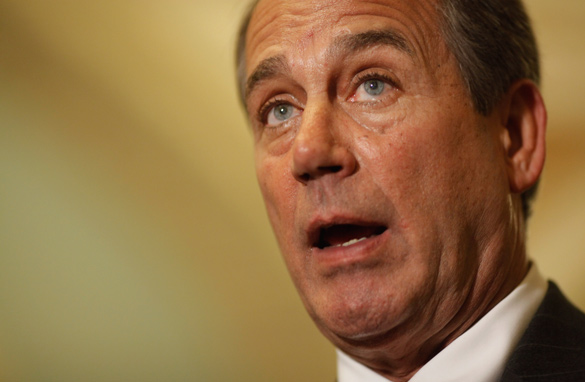 Incoming Speaker of the House John Boehner (R-Ohio). (PHOTO CREDIT: GETTY IMAGES)
FROM CNN's Jack Cafferty:
"Weeper of the House"... that's what Joy Behar dubbed the incoming Speaker John Boehner after his teary-eyed performance on CBS' "60 Minutes."
Boehner got choked up multiple times during the interview with Lesley Stahl, including when talking about the nation's children.
He also teared up another time toward the end of the piece with his wife, Debbie, at his side.
And this "60 Minutes" interview isn't the first time we've seen the speaker-to-be get choked up. On election night, when it became clear the Republicans had won control of the House, Boehner got teary-eyed talking about how he spent his whole life chasing the American dream.
Boehner describes himself as "a pretty emotional guy." No kidding. He told "60 Minutes" he's comfortable in his own skin and that people who know him know that he gets emotional about certain topics.
But not everyone is so comfortable. Barbara Walters said Boehner's got an "emotional problem." Others are now questioning the emotional stability of the man who will be second in line for the presidency. Of course, there are some stereotypes at work here.
In 2008, Hillary Clinton revived her presidential campaign when she started blubbering in a New Hampshire diner. Voters saw the tears as showing her human side. But if a man cries, typically it's seen as a sign of weakness.
When outgoing Speaker Nancy Pelosi was recently asked about Boehner's crying, Pelosi said she cries about a personal loss, "but when it comes to politics, no, I don't cry." Where Pelosi's concerned, it's the taxpayers who cry … but that's another story.
Here's my question to you: Did John Boehner's crying on "60 Minutes" diminish his credibility?
Interested to know which ones made it on air?
Jayne writes:
Mr. Boehner needs to use his solid gold, taxpayer-provided health insurance and find himself a good psychiatrist. He blubbers as he talks about the "American dream" and school children, but doesn't hesitate to vote "no" on bills that might make the dream possible. Something just ain't right with the guy.
Bradley in Portland, Oregon writes:
Boehner's crying makes him seem emotionally unstable. Do we really want someone on the verge of a nervous breakdown controlling the House?
Gerry in Arizona writes:
Boehner's tears just confirm that he's human, which puts him way ahead of most of his peers. I shed tears when I fill out my income tax and downright cry when I see how it's spent.
Jeff in Bishop, Georgia writes:
Dick Vermeil is famous for being a crier. Vermeil is also famous for being a Super Bowl championship coach. Having said that, I'll take Crybaby Boehner over Botox Pelosi any day.
Mike in Vermont writes:
I think Roger Ebert said it best: If only Boehner wept as copiously for the poor and the sick as he does when confessing his own greatness.
John in Kansas writes:
Jack, I'm more interested in how he pushes good, sound policy through the House than whether he occasionally cries doing it. Crying shows that Mr. Boehner cares deeply about what he's doing. And if his only critics are two old, unfunny co-hosts of an unpopular TV show, it bothers me even less.
George in Pennsylvania writes:
Jack, You can't lose what you never had!
Loren writes:
I thought it was strange. But given the current state of our economy, he's merely reflecting how the rest of us feel.
Bob in Youngstown, Ohio writes:
Always tan, lifetime career in the same field, willing to take whatever part is available and able to cry on cue. Are we talking about George Hamilton? At least we know he's an actor.