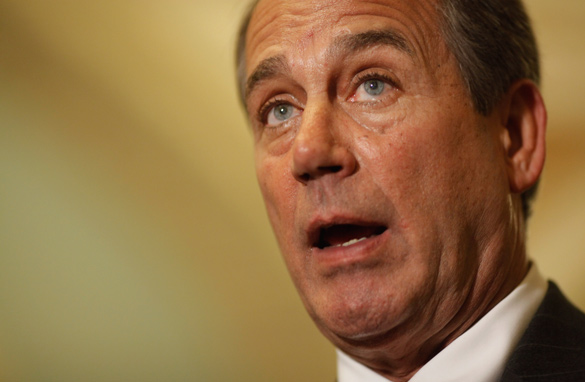 Incoming Speaker of the House John Boehner (R-Ohio). (PHOTO CREDIT: GETTY IMAGES)
FROM CNN's Jack Cafferty:
"Weeper of the House"... that's what Joy Behar dubbed the incoming Speaker John Boehner after his teary-eyed performance on CBS' "60 Minutes."
Boehner got choked up multiple times during the interview with Lesley Stahl, including when talking about the nation's children.
He also teared up another time toward the end of the piece with his wife, Debbie, at his side.
And this "60 Minutes" interview isn't the first time we've seen the speaker-to-be get choked up. On election night, when it became clear the Republicans had won control of the House, Boehner got teary-eyed talking about how he spent his whole life chasing the American dream.
Boehner describes himself as "a pretty emotional guy." No kidding. He told "60 Minutes" he's comfortable in his own skin and that people who know him know that he gets emotional about certain topics.
But not everyone is so comfortable. Barbara Walters said Boehner's got an "emotional problem." Others are now questioning the emotional stability of the man who will be second in line for the presidency. Of course, there are some stereotypes at work here.
In 2008, Hillary Clinton revived her presidential campaign when she started blubbering in a New Hampshire diner. Voters saw the tears as showing her human side. But if a man cries, typically it's seen as a sign of weakness.
When outgoing Speaker Nancy Pelosi was recently asked about Boehner's crying, Pelosi said she cries about a personal loss, "but when it comes to politics, no, I don't cry." Where Pelosi's concerned, it's the taxpayers who cry … but that's another story.
Here's my question to you: Did John Boehner's crying on "60 Minutes" diminish his credibility?
Interested to know which ones made it on air?