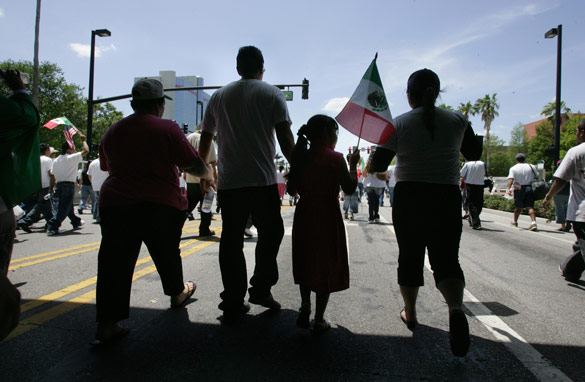 (PHOTO CREDIT:GETTY IMAGES)
From CNN's Jack Cafferty:
Looks like it may only be a dream after all.
Senate Democrats voted to pull the so-called "DREAM Act" from consideration today. They don't have enough votes to pass it.
DREAM is an acronym for "Development, Relief and Education for Alien Minors Act" and would have offered a path to citizenship for illegal immigrants who came to the U.S. as children.
The measure passed the House yesterday, but unless the Senate acts, it will die with the lame-duck Congress.
The DREAM Act would apply to illegal aliens who came here when they were younger than 16, have lived in the U.S. for at least five years, received a high school diploma or G-E-D and shown "good moral character."
They would be given a six-year-conditional status before the next stage, where they would be required to go to college or serve in the military for at least two years and pass criminal background checks.
Those who don't fulfill these requirements would lose their legal status and could be deported.
Supporters say the measure offers legal standing to youngsters brought here who have bettered themselves and served our country. Critics say it's nothing more than backdoor amnesty for as many as two million illegal aliens.
They also say the bill allows illegal aliens to get in-state tuition at public universities and is a "magnet for fraud."
Here's my question to you: Should illegal aliens who came here as children be given a path to citizenship?
Interested to know which ones made it on air?

Shane in Boston writes:
Sure, I have no problem with that. Just make sure it's the same path that my grandmother and grandfather took through the front door (see: Ellis Island) and not through some window a vote-pandering politician left open.
Reggie writes:
That's the most ridiculous thing I have ever heard. This will encourage more illegal immigrants to come to America and then it starts all over again. I am sorry I do not have any sympathy for the children of illegal immigrants because the parents knew what they were doing was wrong and therefore the whole family should be sent back.
Jane in California writes:
Of course they should. For many, this is the only country they have ever known. Some have younger siblings that have been American citizens since birth. They have grown up with American values. This is their home. They are just like everyone else who has been raised here, except their citizenship. They should have an opportunity to become officially American.
Ken in New Jersey writes:
No, they should be sent back on the path to Mexico. What's the difference if they came here as children or adults? Laws are made to be complied with, no exceptions. Enough is enough. They take your job, they get free health care in hospitals, they get a free education at taxpayer expense. And, we are all supposed to welcome them with open arms because employers are too cheap to hire Americans, and rich people are too lazy to cut their own lawn?
Dee in Ohio writes:
The children who were brought here illegally by their illegal alien parents should have the opportunity to achieve citizenship. It is clearly not their fault that they are here. Little kids did NOT cross the desert by themselves to get here. They did not contract with some smuggler to bring them here. They deserve a chance.
Mike writes:
Jack, I really do feel sorry for the kids who are literally stuck in the middle of all of this. But let's not forget the basic point: they are here illegally. The sign on Lady Liberty needs be updated to: "Sorry, No Vacancy."