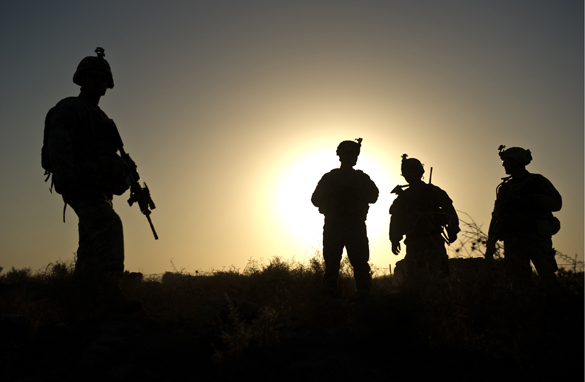 (PHOTO CREDIT: AFP/GETTY IMAGES)
FROM CNN's Jack Cafferty:
As our government plans to extend tax cuts to the wealthiest Americans, they're also proposing the lowest pay raise for the military in almost 50 years.
You heard right. As our servicemen and women return to the battlefield for their third or fourth tours of duty, the people who represent us think it's a good time to cut corners there. Extend tax breaks for millionaires and the middle finger for the armed forces.
The Obama administration has proposed a 1.4 percent pay raise for the military in 2011 – the lowest since 1962, when they got no raise.
The administration claims a 1.4 percent raise would match the average for the private sector, and they say it's on top of other increases in housing and food subsidies.
But many in the military aren't buying it. And it's easy to see where they're coming from when rich Americans will be saving billions in tax breaks.
One Marine Corps sergeant who just got back from his fourth deployment in Afghanistan calls it "absolute garbage."
He asks USA Today how the government can bail out the auto industry and other major corporations, yet not give a larger pay raise to those putting their lives on the line for the U.S.
Some senators want to give bonuses to troops doing the most fighting. And an organization representing 32 military groups is pushing for a 1.9 percent pay raise.
It's estimated that an increase from 1.4 to 1.9 percent would cost taxpayers $350 million next year – compare that to the tax break deal which some say will cost $900 billion.
Here's my question to you: In light of the economy, do members of the military deserve the lowest pay raise in nearly 50 years?
Interested to know which ones made it on air?