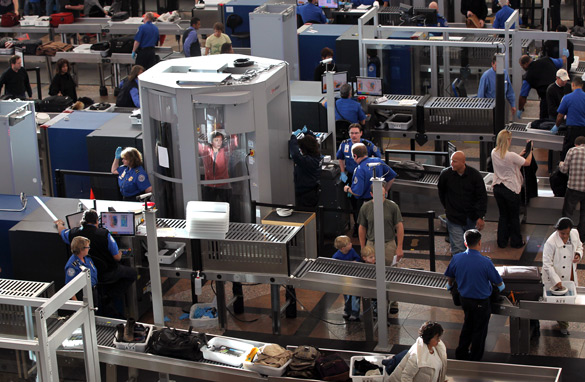 (PHOTO CREDIT: GETTY IMAGES)
FROM CNN's Jack Cafferty:
As the national debate over full-body scans and pat downs at airports rages on, there's another idea that maybe deserves a second look: profiling.
It works pretty darn well for Israel, but questions of political correctness always seem to put an end to the discussion in the U.S. Instead we are reduced to having our crotches grabbed.
However, a Washington Post-ABC News poll shows 70 percent of Americans support using available information about passengers to determine who gets picked for extra security screening.
When asked what criteria should be used to select passengers: 86 percent say personal behavior, 78 percent say travel history, 55 percent say nationality, and 50 percent say personal appearance.
This goes to the point that not all profiling is equal. There's a big difference between smart profiling and the less effective kind – based on race, religion, gender or country.
What's important is for the U.S. to improve profiling based on things like behavior, no-fly lists, personal data and travel history.
It turns out many pilots support this kind of profiling. The Daily Beast reports that online discussion groups show pilots complaining that the government is wasting resources by applying the same broad security measures to everyone.
Meanwhile, with all the hype over airline security, consider this: Politico reports that in 99 million domestic flights (that have carried 7 billion U.S. travelers) in the last decade, there have been zero bombs snuck onto airplanes and detonated. Zero.
Here's my question to you: When it comes to airport security, is it time to reconsider profiling?
Interested to know which ones made it on air?
C. in Phoenix
Of course the TSA should use profiling. Law enforcement does it all the time. There are even professional profilers that build up descriptions of criminals to better aid the cops in catching the bad guys. The reason? IT WORKS! The idea of randomly selecting people for additional screening is stupid.
******************
Gail in Plano, Texas
I don't know, Jack. We're damned if we do, and perhaps dead if we don't! We have become a nation of cry babies, afraid of our own shadow! Profiling is not the answer. Timothy McVeigh was a white, domestic terrorist. The signs were there, but we did not follow up on them. Same thing with 9/11! I am afraid there is no answer.
******************
Dee in New Paris, Ohio
Common sense would be a better idea. There is always the possibility that grandma might just go off the deep end and decide to take a plane full of passengers with her. But common sense tells us it is not likely. We need to focus on those who have already shown that they want to kill us and leave the old folks (and the little kids) alone!
******************
Amitoj in New Jersey
The TSA should NOT profile! Where would the line be drawn? Profiling leads to racial profiling and discrimination. Would profiling have helped catch the so-called "shoe-bomber" Richard Reid who was Caucasian? The majority of people wearing turbans in the U.S. are Sikhs and NOT Muslims, and this has already caused a lot of confusion when it comes to the TSA. This would also cause innocent Muslims to be victim of this profiling.
******************
Guester
We should have been profiling all along.
******************
Paul in Ontario
Yes, profile me. We Canadian, retired English teachers rarely blow up airplanes.
******************
Jeff in Georgia
Mr. Cafferty, Anything that offends those hens on The View, I most likely will support!