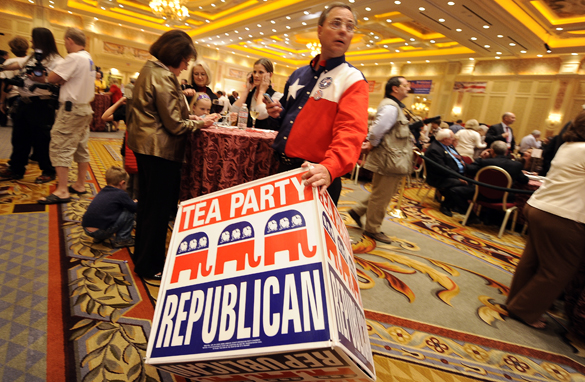 (PHOTO CREDIT: GETTY IMAGES)
FROM CNN's Jack Cafferty:
The Tea Party movement might just be getting started.
After a year of rallies and protests and a strong showing in the midterm elections, the Tea Party is getting significant support from the public.
A new USA Today/Gallup Poll shows Americans are split as to whether they want Tea Party-backed members of Congress or President Obama to take the lead in setting policy.
The folks at the White House must love this:
In the poll, 28 percent say Obama should have the most influence on government policy in the next year; but 27 percent want the Tea Party to set the course.
The traditional political parties trail behind, with 23 percent choosing Republican congressional leaders to influence policy and only 16 percent choosing Democratic leaders.
Experts say the nation's divided mood "guarantees that there will be gridlock." That's because government follows public opinion, and public opinion is all over the place about who should be in charge.
Meanwhile, here's another sign that the Tea Party could have some real staying power:
The Wall Street Journal reports many Tea Party groups around the country are focusing their agenda of limited government and penny-pinching on local governments.
Here's my question to you: Is the Tea Party here to stay?
Interested to know which ones made it on air?
Ken in Atlantic City, New Jersey writes:
I hope so. People have got to unite to stop Wall Street, lobbyists, banks and corporations from sucking this country dry. For the uninformed, the U.S. government has 70 trillion dollars in unfunded liabilities. We are broke, but the politicians continue to provide corporate welfare and tax deductions to companies that outsource jobs and hire illegals, useless billion dollar war toys, farm subsidies to millionaires and tax breaks for the rich. It must end now.
Ralph writes:
The Tea Party will be here to stay only, and I mean only, if it can be a force that congeals and strengthens the Republican Party. Continued divisiveness (as seen with the Murkowski /Miller outcome) will not help its cause. I say this because if the economy strengthens before 2012, it would be daunting for a divided Republican base to defeat many Democrats.
Kurt writes:
Not likely. Ross Perot, Ralph Nader and the persistent Libertarians were never able to maintain a presence post-election. If the Tea-party were able to persist, it would suggest that our education system is failing worse than ever. Ultimately, this is less about conservative vs. liberal, or Republican vs. Democrat than it is about ignorant vs. informed.
Mark writes:
Yes, it's here to stay and for one good reason: the American people are sick to death of having to hold their collective noses every election year and choose between the spend-until-we're-broke Democratic Party and the kick-grandma-to-the-curb Republican Party. Maybe, Jack, we finally have a party that has an ounce of common sense.
Steve in Florida writes:
You betcha, Jack. Just because Dick Armey repackaged and stuck a new label on it doesn't mean it's anything new. It's always been here and probably always will be in some form or other. It's simply the hardcore right wing of the GOP. And they're just as loony and uninformed as they've ever been.
Amber in Austin, Texas writes:
No, Jack. When the economy finally improves, we'll all be able to afford coffee again. There will be no need for tea.