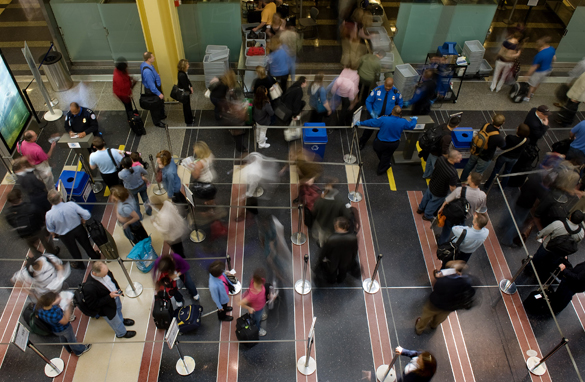 (PHOTO CREDIT: GETTY IMAGES)
FROM CNN's Jack Cafferty:
Two million people a day are expected to travel through this nation's airports Tuesday and Wednesday before Thanksgiving. I am very happy I'm not one of them.
Airline travel this holiday season is shaping up to be a nightmare, thanks to the government's new airport security measures, which include full body scans and invasive pat-downs.
A growing backlash to these measures is coming from all corners, from pilot and flight attendant groups to civil rights and privacy advocates.
Even Secretary of State Hillary Clinton, who hasn't gone through airport security in decades, admits she wouldn't want to submit to an enhanced pat-down if she could avoid it.
Passengers are sharing outrageous stories that show just how embarrassing and invasive all this is:
A flight attendant and breast cancer survivor says she was asked to remove her prosthetic breast during a pat-down, while a bladder cancer survivor wound up soaked with urine during his pat-down.
The latest example comes by way of a viral video of a shirtless boy getting a pat-down from a TSA agent. A partially disrobed child forced to submit to groping by a strange adult. It's just disgraceful.
The TSA insists it's trying to strike a balance between security and privacy concerns. Really?
One industry expert tells the Associated Press that the agency is working under an unachievable mandate since the risks constantly change when terrorists use new tactics. This means the TSA is always in crisis mode, adding new policies to respond to the last terror plot.
And on some level, Americans do get their dilemma. A recent CBS poll shows that four out of five Americans support the use of full body scans.
Interested to know which ones made it on air?
Craig in Arizona writes:
Since 9/11, I have chosen to fly less and less for both business and pleasure. I keep my business relationships close to home and vacation where a car will take me. This latest intrusion is all the more reason to avoid air travel. All of this could be avoided with common -sense profiling, but America does not have the stomach for it and continues to treat all Americans as if they were terrorists.
Harry in Texas writes:
I cannot thank the TSA enough for keeping us safe. I travel so much that I want all of the security I can get. Once the door is closed on the aircraft, we are all along for the ride.
Jon writes:
We murder each other at the rate of about 30,000 gun deaths a year. We slaughter tens of thousands more on the highways. People die from all strange kinds of screw-ups every year. No outcry over this stuff. What's the BIG deal about this plane security? Terrorists could very easily attack churches, schools, malls, hospitals, theaters, etc, But they don't. I think this madness at the airports is seriously a knee jerk reaction and should be ended.
Lou in South Carolina writes:
The groping of the youngster is beyond appalling – a pedophile's dream job all in the name of "safety." Every pervert in the country is probably applying for jobs right now, and some will get them! If Israel can do it without all this embarrassment and humiliation, why can't we?
Andrew writes:
Four out of five Americans support body scans – but would the same number support them if you asked, "Do you support being exposed to radiation for a body scan?"
Carolyn in Illinois writes:
I may not be flying real soon, but I have flown a lot in the past. The terrorist threat is REAL and it scares me to death. I am so glad the TSA is using aggressive procedures to help ensure our safety. The complainers need to grow up. I am also a breast cancer survivor and use a breast prosthesis. And if the inspector wants to touch it to ensure some terrorists hasn't removed the gel and replaced it with explosive material, have at it!
Queen in Utah writes:
Jack, I'm 307 pounds. I'm more worried about getting kicked off the plane than blinding the agents with my hot body.