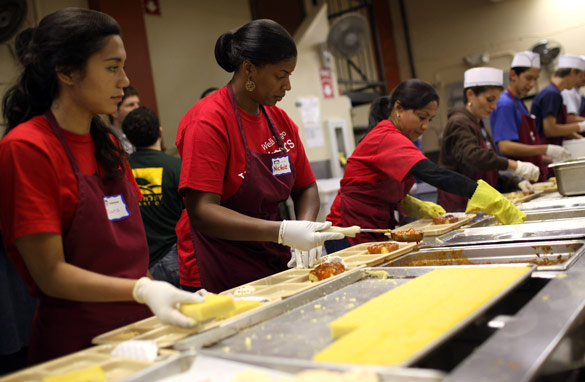 Volunteers prepare meals for homeless and impoverished people at the St. Anthony Foundation dining room in San Francisco. (PHOTO CREDIT: GETTY IMAGES)
FROM CNN's Jack Cafferty:
As most of us get ready to gather around a bountiful Thanksgiving feast next week... and gorge on turkey and pumpkin pie, here's something to think about:
45 million Americans were food insecure last year - according to an Agriculture Department report.
This means they had difficulty feeding one or more of their members because they didn't have enough money. That's 14.7 percent of all U.S. households - or about one of every seven.
The situation was especially bad for about one-third of the households which reported very low food security.
These numbers are higher than in 2008, and represent the highest levels since the government starting keeping track 15 years ago.
The report found the households most likely to go hungry included those headed by single parents. Access to food was also worse in big cities and among African-Americans and Hispanics.
Out of the 50 states, food insecurity was highest in Arkansas - at nearly 18 percent - and lowest in North Dakota, at close to seven percent.
With numbers like these, it's no surprise that more people are participating in government-sponsored food programs:
More than 15 million households used food stamps in any given month in 2009 - that's a 20 percent jump from the year before. Rates also rose for the free lunch program and the Supplemental Nutrition Program for Women, Infants and Children.
The report also shows the number of households getting emergency food from a food pantry almost doubled between 2007 and 2009.
Here's my question to you: What does it mean when U.S. hunger is at the highest level in 15 years?
Interested to know which ones made it on air?