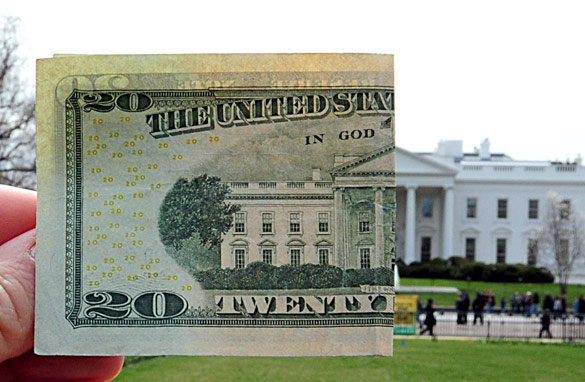 (PHOTO CREDIT: KAREN BLEIER/AFP/Getty Images)
FROM CNN's Jack Cafferty:
Ever since the proposals of the bipartisan deficit commission have started to emerge - critics from all over the political spectrum are trying to shout loudest about what they don't want to see cut.
And now, you can add Defense Secretary Robert Gates to that list.
Gates is blasting the proposed reductions in military spending, saying such cuts would be "catastrophic" to national security. He says he's trying to use a "scalpel instead of a meat axe" to make cuts to his department.
Gates adds that when it comes to the deficit, the Defense Department is not the problem.
But that is the problem here - no one wants to see the programs near and dear to them cut - yet, if we're going to get serious about reducing our $13 trillion-plus national debt, a lot of cutting is in order.
And the deficit commission seems to have put nearly everything on the table with its draft recommendations. The overall goal being to reduce the debt by $4 trillion by 2020.
In addition to defense cuts, the commission recommends cuts to: Social Security and Medicare, raising the retirement age, increasing taxes, cutting contractors for domestic government agencies, freezing the pay of federal workers, shrinking the size of the federal workforce, and eliminating all earmarks.
Congress is already hard at work on that last one - voting on a symbolic, non-binding resolution to ban all earmarks. A non-binding resolution is about as worthless as Congress.
Here's my question to you: In light of the deficit commission's draft recommendations, where do you expect the federal government to make the deepest spending cuts?
Interested to know which ones made it on air?
Kathie writes:
If they were really representing us, they would cease funding for the two endless wars started by Bush, close military bases around the world (no other country has a military base in ours), stop outsourcing our jobs, stop catering to illegal aliens and enforce immigration laws.
Annie writes:
Since Republicans are taking charge in the House, I imagine the deepest spending cuts will be to programs that help the most vulnerable among us. Grandma better stock up on cat food.
Bud in Washington writes:
One thing is for sure: They won't go near Social Security or Medicare… My guess is they'll take a swipe at Defense and the so-called discretionary spending budgets. The federal government is like a bamboo tree; you cannot stop it from growing. You cut it back and it comes back and grows twice as fast and twice as much.
Joanne in Minnesota writes:
The most intelligent and prudent cuts would be "across the board" cuts of at least 10-15%. The departments that have shown zero or little accomplishments over the years should be shut down. Redundant programs should be terminated as well.
David in California writes:
I don't expect them to have the courage to make any significant cuts until China and Japan quit buying our debt. Even then, they may just start printing money instead of facing the fury of the voters.
Bonnie in New Jersey writes:
I expect it to be entitlement and public education programs; they only affect middle and low income people. Any Congress full of rich, white, old men is not going to touch defense – it's their Viagra. And they don't have to send their family members to war, to the unemployment line or to community college.
Paul in Florida writes:
Pencils and paper clips gotta go.