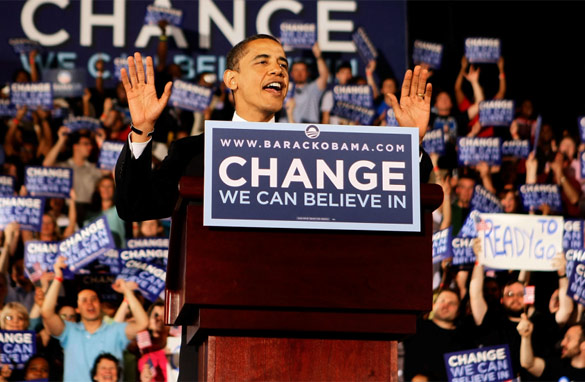 FILE PHOTO: Obama campaigning in 2008. (PHOTO CREDIT: GETTY IMAGES)
FROM CNN's Jack Cafferty:
To be a great leader, President Obama should not seek re-election in 2012.
That's according to a Washington Post piece by two pollsters who worked for Democratic presidents.
Patrick Caddell and Douglas Schoen write that Mr. Obama needs to decide how he wants to govern for the next two years. And, they believe the only way he can attempt to fix the serious problems facing this country is by putting national interests ahead of personal or political ones.
By announcing he won't run again, Mr. Obama "will be able to unite the country, provide national and international leadership, escape the hold of the left, isolate the right and achieve results that would be otherwise unachievable."
Caddell and Schoen write that President Obama would not be a lame duck if he forgoes another term. Instead they believe it would give him much more leverage with both parties.
If the president showed more bipartisanship, the Republicans would be forced to meet him half way. Plus, Mr. Obama wouldn't be constantly worried about pleasing the Democrats' base - people like senior citizens and unions - in order to convince them to vote for him in two years.
Could make it a whole lot easier to accomplish something meaningful on the tough issues - like the deficit.
The writers do believe that President Obama can be re-elected if he chooses to run, but to win he'll have to carry out a "scorched-earth campaign," the kind of divisive campaign that President Bush ran in 2004 and that Mr. Obama completely rejected the first time around.
Here's my question to you: Should President Obama not run for re-election in 2012?
Interested to know which ones made it on air?
Linda in Arizona writes:
If he announces that he's not running in 2012, he will be a lame duck, and instead of next-to-nothing getting done, it will be nothing at all. Anyway, he won't do it, so why bother with this idle conjecturing? I don't agree with their conclusions about uniting the country and "providing national and international leadership" either. How would a lame duck president accomplish anything like that?
Joe in Florida writes:
Obama will run in 2012. And he might win it. Hillary was the only one that would have given him a ticket back to Chicago, but I don't think she is going to run.
Dave in Cincinnati writes:
As a political maverick who finds his politics somewhere between Conservative, Libertarian and Tea Party, I definitely think he should run. It will near assure a change in the Oval Office.
T. writes:
What a stupid question. Of course he should run again.
John writes:
He should not run. He is out of touch with mainstream America. Follow LBJ. He knew he wouldn't be re-elected either.
Susan in Idaho writes:
No, no one will miss him until he's gone. What would we have had with McWrong and the Wasilla wonder? Someone that would have had to postpone one thing on his agenda to tackle another and a quitter. Of course, we might have had Joe the Plumber for Secretary of State and Wilford Brimley for Secretary of War.
Susan in Florida writes:
Jack, Does it really matter since the world is going to end on Dec. 21st 2012, according to ancient Mayan calendar? At least that's what the History Channel is telling us... And Jesse Ventura.
David in North Carolina writes:
Yes. Obama should run, and get a second coat of shellac.