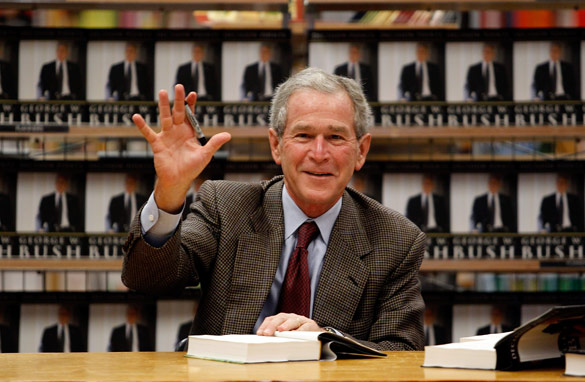 George W. Bush waves while signing copies of his new memoir, 'Decision Points' at a Borders Books in Dallas. (PHOTO CREDIT: Tom Pennington/GETTY IMAGES)
FROM CNN's Jack Cafferty:
George Bush is out hawking a new book, and suddenly the former president is popping up all over the place, from broadcast news interviews to Oprah's couch.
Two years later, it seems worth comparing the former occupant of the Oval Office to the current one.
Howard Kurtz writes in his Daily Beast column that the contrast between presidents Bush and Obama in recent appearances could hardly be sharper. Kurtz calls it the Decider versus the Agonizer.
Bush, as always, talks in those short, declarative sentences and appears sure of himself - even on weighty issues like waterboarding, Saddam and WMDs. On the other hand, Kurtz writes that President Obama's "finely rendered prose" and meandering around any topic makes him sound like a think tank analyst.
Kurtz points out that Bush doesn't have nearly as much on the line here, except maybe some image rehab. He compares the man who approved torture to the man who tortures himself.
After eight years of President Bush, it felt like most of the country couldn't wait to be rid of him. "Bring 'em on," "Wanted dead or alive," and "I'm the decider," had gotten on everyone's nerves. Much of America welcomed the more intellectual and eloquent Barack Obama with open arms. But the new love affair is shaping up as a bit of a one night stand.
Forty-five percent of those surveyed in a recent CNN/Opinion Research Corp. poll say Bush was a better president, compared to 47 percent who feel that way about President Obama.
A year ago, only 34 percent thought Bush had been a better president, compared to 57 percent for Mr. Obama.
At this point, the trend is not President Obama's friend.
Here's my question to you: Two years later, do you ever miss President Bush?
Interested to know which ones made it on air?