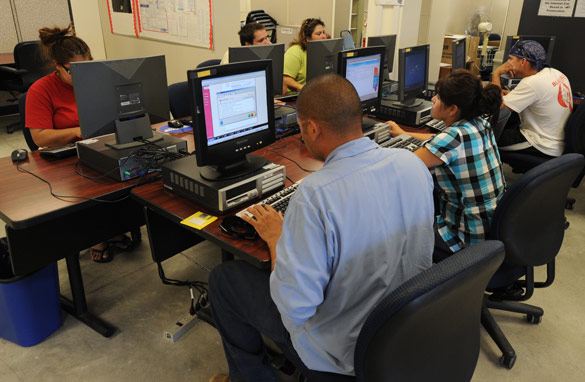 Unemployed people search for jobs in an employment office in the southern California town of El Centro. (PHOTO CREDIT: GETTY IMAGES)
FROM CNN's Jack Cafferty:
California is borrowing $40 million a day from the federal government to pay unemployment benefits.
That means California is borrowing $40 million a day from you and me to pay unemployment benefits.
The Los Angeles Times reports the state will have a $362 million bill for interest alone due on a total debt of $10 billion next fall.
Thanks to the recession and poor management, California is an economic disaster zone, with one in every eight workers unemployed. More than 1.2 million Californians have lost their jobs since the start of the recession, and they're staying out of work for longer periods of time.
Plus in 2001, state lawmakers nearly doubled unemployment benefit levels without raising taxes. That was smart.
The result of all this is that if California keeps borrowing from the federal government, employers could face a steep hike in their unemployment taxes.
California is not alone here. 32 states in total have been borrowing from the federal government to pay unemployment benefits. The total is $41 billion. Some of these states are asking the feds for a deferral on repaying the loan until the economy improves.
The solution to this is fundamental: either increase contributions or decrease benefits - or both. Want to bet neither one happens?
Here's my question to you: Should California borrow $40 million a day from the federal government to pay unemployment benefits?
Interested to know which ones made it on air?
Joey in San Diego writes:
Are you really shocked, Jack? We are broke and yet the California politicians continue to spend like drunken sailors. Don't worry though, voters decided to keep Boxer and give tax-and-spend career politician Jerry Brown another shot at it. Taxes will be going up for those of us that actually pay them and the businesses that have an option to leave...will.
Paul writes:
While I support unemployment benefits and other social programs, there comes a time when you have to cut it off. Otherwise you are merely sustaining a fantasy, or an illusion of prosperity. The program should give people enough time to find other work or make preparation for lifestyle changes. But keeping it going in perpetuity merely delays the inevitable and puts an unneeded financial burden on everybody.
Rich in Texas writes:
I was born and raised in California. People need to realize that they have a real sense of entitlement out there. Kids are raised to believe everything should be perfectly equal even if some are not willing to put in the work. They keep electing the same people into office expecting things to magically take care of themselves. Until we stop baling them out, they will continue to operate this way.
Paul in Austin, Texas writes:
Why not give millions to California? Instead we give millions in aid to countries on the other side of the world who hate us anyway. I say help at home first.
Jeff in Minnesota writes:
Jack, You're damned if you do and damned if you don't. For most of the unemployed, it's not their fault. So we should just kick them to the curb and hope for the best? It may not be the best solution, but people have got to be able to live.
Ian writes:
Yes. The cost of the federal government's failure to enforce illegal immigration laws or protect the border ALONE should be enough to justify protecting our unemployed citizens here in California. California should be suing the federal government but it wouldn't be PC. California's legislature is filled with monkey's wearing clown makeup.
Dave writes:
California is going down the pot. If they legalized it, they would have made enough in taxes last week alone to cover that.